Willamette NF: Middle Fork Ranger District
The Oakridge area boasts some of the best trails in the Cascade range and is a very popular mountainbike destination.
The area offers a wide range of riding challenges, from river rides to steep mountain descents, and is very accessible from the Eugene area.
Waldo Lake ties in with Bend area lake trail systems and is a great camping destination as well.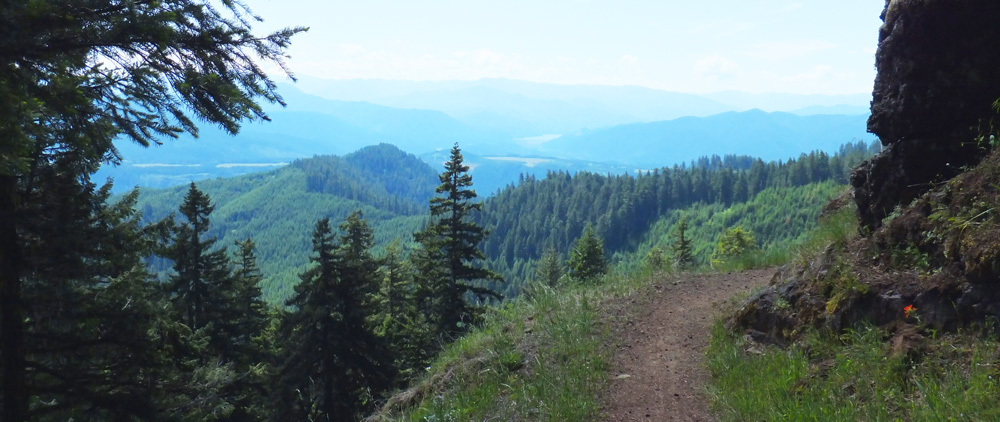 Middle Fork Ranger District TrailFinder
Sort by column and/or search/filter by word (e.g. Select 'Name' from the pulldown menu, type in 'Rdg.', then click on any column header).
Interactive Map: Click on any trail or region. (Please refresh your browser if map fails to load.)
No Map? Browser settings and some browser extensions can prevent the maps from appearing. Please see Site Tech
| Name | Nbr | Type | Climbing | Length: Mi | Ride Time: Hrs | State | National Forest | Ranger District | Incline of Ascent: Pct | Singletrack: Pct | TH Elev.: Ft | Elev. Chg.: Ft | Overall Rating | Aerobic | Flow | Page Status |
| --- | --- | --- | --- | --- | --- | --- | --- | --- | --- | --- | --- | --- | --- | --- | --- | --- |
| Crescent Lk. to Windy Lk. | 3846 | Loop | Moderate | 23 | 4 | OR | Deschutes | Crescent | 4% | 100 | 4900 | 2900 | 6 | 5 | 7 | Topo, Guide |
| Brice Cr. | 1403 | OAB | Moderate | 12 | 3 | OR | Umpqua | Cottage Grove | 8% | 100 | 1400 | 4100 | 7 | 6 | 7 | Topo, Guide, Video |
| Crawfish | 1421 | Loop | Intense | 10 | 3 | OR | Umpqua | Cottage Grove | 14% | 99 | 1700 | 3800 | 7 | 7 | 6 | Topo, Guide |
| Mayflower | 1559 | Loop | Moderate | 6.5 | 2 | OR | Umpqua | North Umpqua | 12% | 50 | 2450 | 2350 | 4 | 6 | 4 | Topo, Guide |
| Umpqua Rvr: Swiftwater to Steamboat | 1414 | OAB | Easy | 37 | 6 | OR | Umpqua | Swiftwater Park | 4% | 100 | 900 | 7500 | 7 | 5 | 8 | Topo, Guide |
| Umpqua Rvr: Steamboat to Marsters | 1414 | OAB | Easy | 23.5 | 4 | OR | Umpqua | Steamboat | 5% | 100 | 1100 | 5100 | 7 | 4 | 8 | Topo, Guide |
| Umpqua Rvr: Marsters to Toketee | 1414 | OAB | Moderate | 26.5 | 5 | OR | Umpqua | Clearwater Lake | 7% | 95 | 1550 | 8000 | 8 | 5 | 7 | Topo, Guide |
| Umpqua Rvr: Dread and Terror | 1414 | OAB | Moderate | 31.5 | 6 | OR | Umpqua | Clearwater Lake | 4% | 100 | 2400 | 6300 | 10 | 7 | 7 | Topo, Guide |
| Alpine | 3450 | Loop | Intense | 19.5 | 5 | OR | Willamette | Middle Fork | 11% | 50 | 1200 | 5600 | 10 | 8 | 7 | Topo, Guide, Video |
| Eugene to Crest: Bunchgrass Rdg. | 3559 | OAB | Intense | 33 | 8 | OR | Willamette | Middle Fork | 8% | 100 | 3500 | 9400 | 10 | 8 | 7 | Topo, Guide |
| Grasshopper - Chucksney Mt. | 3569 | Loop | Intense | 25 | 5 | OR | Willamette | Middle Fork | 11% | 100 | 3800 | 7300 | 7 | 7 | 6 | Topo, Guide |
| Hardesty, Goodman, Eula | 3469 | Loop | Intense | 18 | 5 | OR | Willamette | Middle Fork | 11% | 65 | 1000 | 3500 | 8 | 7 | 7 | Topo, Guide, Video |
| Jones | 3472 | Loop | Moderate | 13 | 3 | OR | Willamette | Middle Fork | 12% | 100 | 1000 | 4800 | 6 | 7 | 6 | Topo, Guide |
| Larison Cr. | 3646 | OAB | Moderate | 10 | 2 | OR | Willamette | Middle Fork | 7% | 100 | 1550 | 2500 | 7 | 6 | 6 | Topo, Guide, Video |
| Larison Rock | 3607 | Loop | Moderate | 10 | 2 | OR | Willamette | Middle Fork | 10% | 25 | 1200 | 3400 | 6 | 7 | 6 | Topo, Guide |
| Lawler - Lone Wolf | 3473 | OAB | Intense | 22 | 4 | OR | Willamette | Middle Fork | 10% | 100 | 950 | 6100 | 7 | 7 | 6 | Topo, Guide |
| Lost Cr. | 3462 | OAB | Intense | 17 | 4 | OR | Willamette | Middle Fork | 10% | 100 | 2700 | 6200 | 7 | 7 | 7 | Topo, Guide, Video |
| Salmon Cr. - Aubrey Mt. | 4365 | Loop | Moderate | 15 | 2.5 | OR | Willamette | Middle Fork | 12% | 95 | 1250 | 3100 | 6 | 6 | 7 | Topo, Guide |
| Tire Mt. | 3485 | Loop | Intense | 23 | 4 | OR | Willamette | Middle Fork | 8% | 65 | 1100 | 5400 | 8 | 7 | 8 | Topo, Guide |
| South Waldo Lk. | 3586 | Loop | Moderate | 15 | 4 | OR | Willamette | Middle Fork | 8% | 100 | 4825 | 3500 | 8 | 7 | 6 | Topo, Guide |
| Waldo Lk. | 3590 | Loop | Moderate | 20.5 | 4 | OR | Willamette | Middle Fork | 4% | 100 | 5400 | 2450 | 8 | 5 | 8 | Topo, Guide, Video |
| Middle Fork Willamette | 3609 | OAB | Easy | 20.5 | 3 | OR | Willamette | Middle Fork | 3% | 100 | 1550 | 1900 | 6 | 4 | 8 | Topo, Guide, Video |
| South Willamette | 3465 | OAB | Easy | 10.5 | 2 | OR | Willamette | Middle Fork | 5% | 100 | 975 | 2400 | 5 | 4 | 7 | Topo, Guide |
| Moon Pt. - Youngs Rock | 3685 | Loop | Mt Goat | 18.5 | 4 | OR | Willamette | Middle Fork | 8% | 35 | 2000 | 5700 | 6 | 8 | 4 | Topo, Guide |