Deschutes NF: Bend Ranger District
With epic rides such as the Tumalo-Flagline loop, Mrazek and the Phils trail system, the Bend RD is home to some truly world class mountainbiking.
These Southeastern Cascades trails are long and the terrain is moderate.
The dry side of the Cascades creates long, dry riding seasons.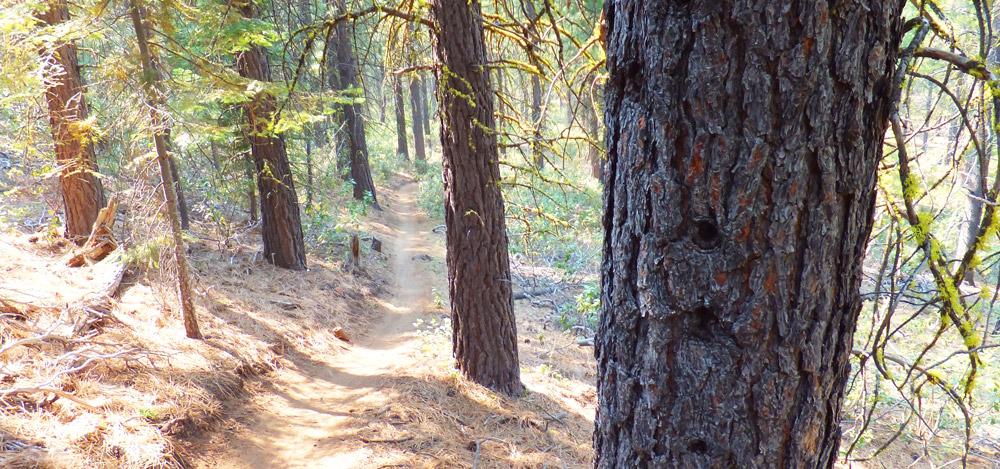 Bend Ranger District TrailFinder
Sort by column and/or search/filter by word (e.g. Select 'Name' from the pulldown menu, type in 'Rdg.', then click on any column header).
| Name | Nbr | Type | Climbing | Length: Mi | Ride Time: Hrs | State | National Forest | Ranger District | Incline of Ascent: Pct | Singletrack: Pct | TH Elev.: Ft | Elev. Chg.: Ft | Overall Rating | Aerobic | Flow | Page Status |
| --- | --- | --- | --- | --- | --- | --- | --- | --- | --- | --- | --- | --- | --- | --- | --- | --- |
| Cascade Lk. Hwy | 71 | Loop | Easy | 28 | 6 | OR | Deschutes | Bend | 4% | 100 | 4000 | 3100 | 7 | 6 | 8 | Topo, Guide |
| High Cascade: Metolius-Windigo | 99 | Loop | Intense | 30 | 7 | OR | Deschutes | Bend | 6% | 100 | 4400 | 4800 | 7 | 8 | 8 | Topo, Guide |
| Cultus Lk: Winopee Lk. | 16 | Loop | Easy | 12 | 2 | OR | Deschutes | Bend | 2% | 60 | 4750 | 1150 | 5 | 3 | 7 | Topo, Guide |
| Deschutes Rvr. | 2.1 | Loop | Easy | 18 | 3 | OR | Deschutes | Bend | 3% | 100 | 4000 | 1600 | 5 | 4 | 7 | Topo, Guide |
| Bachelor to Bend: Dutchman Flats | 41 | Loop | Moderate | 16.7 | 3.5 | OR | Deschutes | Bend | 7% | 100 | 5800 | 2400 | 9 | 6 | 8 | Topo, Guide, Video |
| Edison Butte to Lava Lk | 31 | OAB | Moderate | 20 | 4 | OR | Deschutes | Bend | 8% | 100 | 5000 | 2600 | 7 | 6 | 8 | Topo, Guide, Video |
| Lava Butte | 3935 | OAB | Easy | 12.5 | 2 | OR | Deschutes | Fort Rock | 1.5% | 100 | 4100 | 1100 | 5 | 4 | 7 | Topo, Guide |
| Lemish Lk. to Charlton Lk. | 19 | Loop | Easy | 14.5 | 3 | OR | Deschutes | Bend | 5% | 100 | 4950 | 1850 | 8 | 5 | 7 | Topo, Guide, Video |
| Mrazek | 32 | OAB | Moderate | 31.5 | 6 | OR | Deschutes | Bend | 5% | 100 | 3600 | 3600 | 10 | 5 | 10 | Topo, Guide, Video |
| Phils - COD - Storm King | 42 | Loop | Moderate | 16 | 3 | OR | Deschutes | Bend | 6% | 100 | 3900 | 1300 | 10 | 5 | 10 | Topo, Guide, Video |
| Bens, Kents, Sector 16 | 50 | Loop | Moderate | 16 | 3 | OR | Deschutes | Bend | 6% | 100 | 3900 | 1300 | 10 | 6 | 10 | Topo, Guide, Video |
| Quinn Cr to Sparks Lk. | 4 | OAB | Easy | 12.5 | 2 | OR | Deschutes | Bend | 3% | 100 | 5000 | 1100 | 6 | 5 | 8 | Topo, Guide |
| Swampy Lk. - Swede Rdg. | 23 | Loop | Moderate | 11.5 | 2.5 | OR | Deschutes | Bend | 4% | 100 | 5800 | 1500 | 9 | 6 | 9 | Topo, Guide, Video |
| Tumalo Cr. - Tumalo Rdg. | 25.2 | Loop | Intense | 18.5 | 5 | OR | Deschutes | Bend | 8% | 99 | 4750 | 4000 | 10 | 7 | 9 | Topo, Guide, Video |
| Waldo Lk. | 3590 | Loop | Moderate | 20.5 | 4 | OR | Willamette | Middle Fork | 4% | 100 | 5400 | 2450 | 8 | 5 | 8 | Topo, Guide, Video |