Willamette NF: McKenzie Ranger District
With a ride so good they named a ranger district after it, the McKenzie RD has even more to offer than it's most famous ride, with a great cluster of trails near O'Leary Mountain.
Like the Willamette River and Umpqua River trails, the McKenzie river trail covers a LOT of terrain, with some reasonable climbing between the Trail Bridge Campground and Sahalie Falls, and one of the great lavabed trails in the Cascade Range.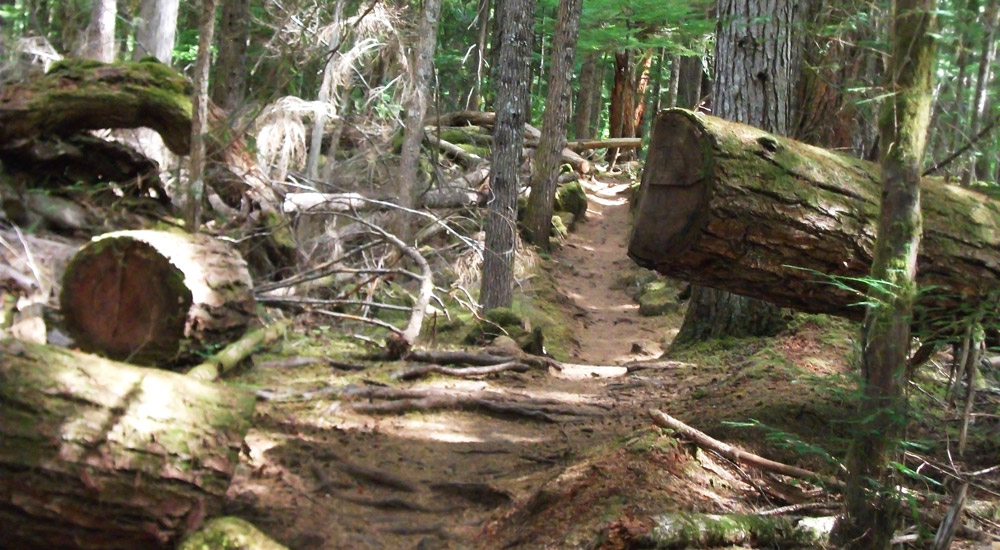 McKenzie Ranger District TrailFinder
Sort by column and/or search/filter by word (e.g. Select 'Name' from the pulldown menu, type in 'Rdg.', then click on any column header).
Interactive Map: Click on any trail or region. (Please refresh your browser if map fails to load.)
No Map? Browser settings and some browser extensions can prevent the maps from appearing. Please see Site Tech
| Name | Nbr | Type | Climbing | Length: Mi | Ride Time: Hrs | State | National Forest | Ranger District | Incline of Ascent: Pct | Singletrack: Pct | TH Elev.: Ft | Elev. Chg.: Ft | Overall Rating | Aerobic | Flow | Page Status |
| --- | --- | --- | --- | --- | --- | --- | --- | --- | --- | --- | --- | --- | --- | --- | --- | --- |
| McKenzie Rvr. Trailbridge CG | 3507 | OAB | Moderate | 17 | 3 | OR | Willamette | McKenzie Rvr. | 4% | 100 | 2500 | 2200 | 9 | 6 | 7 | Topo, Guide, Video |
| McKenzie Rvr. Paradise CG | 3507 | OAB | Easy | 26 | 4 | OR | Willamette | McKenzie Rvr. | 1% | 100 | 1450 | 1700 | 8 | 5 | 9 | Topo, Guide, Video |
| Grasshopper - Chucksney Mt. | 3569 | Loop | Intense | 25 | 5 | OR | Willamette | Middle Fork | 11% | 100 | 3800 | 7300 | 7 | 7 | 6 | Topo, Guide |
| King Castle | 4326 | OAB | Moderate | 14 | 3 | OR | Willamette | McKenzie Rvr | 10% | 100 | 1200 | 3900 | 7 | 6 | 7 | Topo, Guide, Video |
| Olallie | 3529 | Loop | Intense | 20 | 4 | OR | Willamette | McKenzie Rvr. | 12% | 100 | 2600 | 5600 | 7 | 7 | 5 | Topo, Guide, Video |
| O'leary Mt. | 3321 | Shuttle | Intense | 12 | 6 | OR | Willamette | McKenzie Rvr. | 16% | 100 | 2250 | 3400 | 7 | 9 | 5 | Topo, Guide |