Middle Fork Willamette Tr3609 is a fast river ride, but at 33mi, it is long enough to split up into several rides.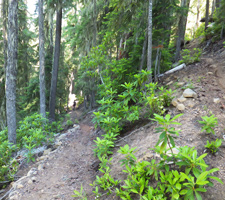 As with any river ride, expect some sections to be washed out, especially in the Spring. As of July 2012 the section between Indigo Springs intersection and FR393 was washed out and unrideable. The Paddy's Valley burn area is also prone to trail damage so be sure to check with the forest service or local bike shops to get the current trail condition.
The trail crosses many unbridged creeks which feed the Middle Fork Willamette, so this a dry weather, summertime ride.
The first 20mi are at an easy 3% grade, with a lot of hillside traverse and some pathfinding may be needed.
FR21 and the local fireroads can serve as connectors for any washed out sections.
The Sand Prairie campground to Campers Flat campground section is the most popular and best suited for those seeking an easier river ride. The Campers Flat CG to Sacandaga CG section is a technical intermediate ride.
Campers Flat to Indigo Springs OAB
The next 10mi of the trail extends the ride to Indigo Springs campground, but is more likely to experience springtime trail damage.
This section of the trail includes a minor ascent near Sanadaga campground, but is otherwise still about a 3% grade.
In addition to ascending from the Indigo campground to Indigo Lake, nearby Youngs Rock Tr3685 can be added to the first section of Middle Fork Willamette Tr3609, into one tough lollipop ride.
Those seeking a more challenging river ride could look south, to the Umpqua River Trail Dread and Terror segment.
To the north, the Bunch Grass Tr3559 section of the Eugene to Crest Trail offers a similarly long ridgeline ride option.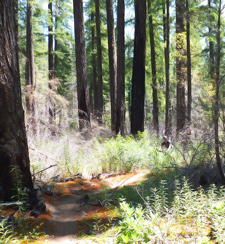 Indigo Springs to Indigo Lake OAB
The 12.5mi section from Indigo Springs campground to Indigo Lake is more challenging, with 7mi of 4% grade followed by a 5.5mi ascent to Timpanogas Lake, then to Indigo Lake, over an 8% to 10% grade. Of course, FR2154 also makes this a perfect shuttle opportunity..