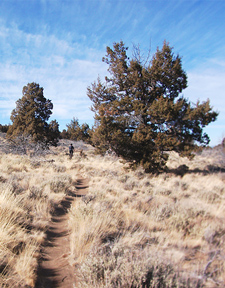 The 40 square mile region of lava and juniper is managed by the Prineville District of the Bureau of Land Management, bounded to the north by Oregon Badlands Wilderness and Dry River Canyon to the northeast. Pine Mountain is at the ridge's southeast quarter.
The trail is buff, but rocky sections add some technical challenges, requiring some attention and speed control to navigate the best line.
The aptly named Sand Canyon is the primary descent route but the ride can be lengthened by descending the mid-route, which winds through the hillside prior to the final, fast run to the TH.
The abandoned road provides a very steady, moderate ascent route. Those seeking more challenge can ascend the mid-route, as indicated by the arrows on the map. Ascending Sand Canyon should only be tried when no one else is around, to avoid spectacular, yet painful, collisions.
The area is covered in abandoned trails, some of which are marked as hiking trails on the map, and should be considered to be not much more than wildlife paths.
The viewpoint offers a great view of Paulina Peak, Pine Mountain, Mount Bachelor and the ever-present Three Sisters peaks. There is a sandy hiking trail from the summit to a jeep trail, which leads to Fort Rock Rd, which is not useful for biking.
Note: Horse Ridge Summit is on the abandoned road, near US20, at the midpoint of the ascent. The ride peak is at the viewpoint of this reverse lollipop ride.
Please remain on the trail, especially in the Research Area. Biking has been allowed on the designated path through that area, which is clearly marked otherwise and would be cut off if the terrain became damaged from bike traffic.