Edison Butte to Lava Lake Tr31 is a straightforward OAB ride, which also serves as the southern High Cascades 100 MTB Race segment.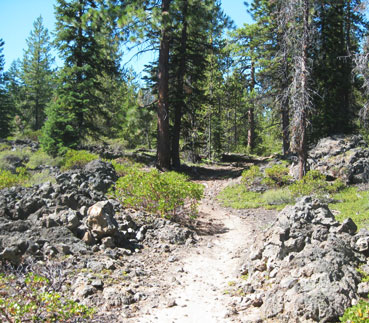 The 'twin peaks' ride profile is unusual but manageable, and the terrain is moderate and steady.
Those seeking an easier ride can turn around at the 5.5mi Snowmobile #4 Tr8004 intersection (between Sheridan mountain and Kwohl butte)and spend some time winding around the extensive Edison XC Ski trail system.
The Lava Lake campground is the other TH choice, with more riding options such as the Lava Lake to Sparks Lake ride.
The west side of the trail is all singletrack, with the east side open to ORV, up to the Snowmobile #4 Tr8004 intersection. The damage to that section of trail will vary from year to year and the west side is an easier ascent.
So, enjoy the views of Broken Top, Mount Bachelor and Tumalo mountain and be ready for a long ride.
Edison Butte is also a good XC Ski trailhead.