Sparks Lake Tr4 runs 2mi from Sparks Lake to Metolius-Windigo Tr99.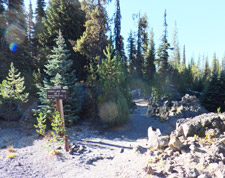 The OAB is often ridden from the 5400' elevation Sparks Lake to the 4700' elevation Lava Lake, which results in an inverted ride profile, so it's better to start that ride from the Lava Lake campground trailhead.
A lollipop ride from Lava Lake to Hosmer Lake is covered on the Metolius-Windigo Tr99 page.
This page covers several rides which originate from the Quinn Creek CG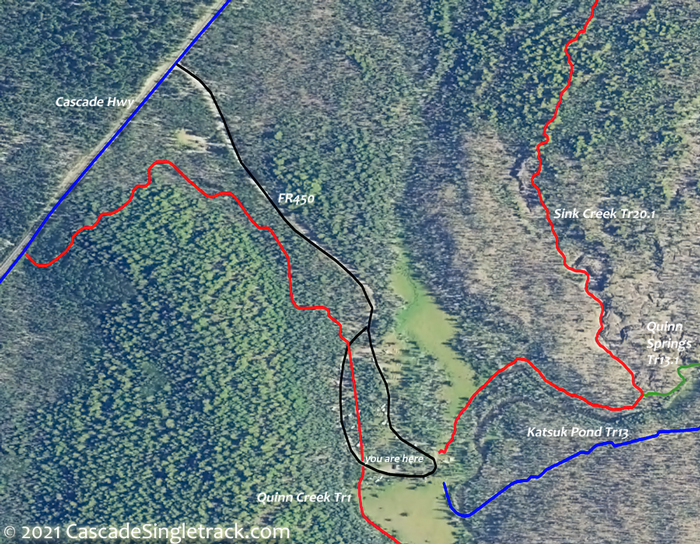 View of the Quinn Creek Campground TH, a 12.5mi (1100' ascent) OAB to Sparks Lake and a 14mi (1300' ascent) CCW loop with Katsuk Pond Tr13.
These rides cover relatively flat terrain, although there are several brief but intense climbs covering benched terrain near Hosmer Lake.
Not really 'destination ride' terrain but a good end of day or last day ride if staying in the area, covering rocky, lava terrain which keeps the ride interesting.
Hosmer - Sparks CCW Loop
A 2mi section of Cascade Hwy is needed in order to connect the upper Sparks Lake Tr4 to Devils Lake Tr6.1, but otherwise this is a nice lake tour ride which covers most of the intra-lake terrain.
TH: Descend alongside Quinn Creek to the top of Hosmer Lake, then ascend sharply to the top of the butte and ride over to Metolius-Windigo Tr99.
2.2mi: Go left on Metolius-Windigo Tr99, with .8mi of flat terrain followed by a 1.2mi, 330' climb to the Appaloosa Tr13.2 intersection, continuing over relatively flat terrain to Sparks Lake Tr4.
5.1mi: Go left at the fork onto Sparks Lake Tr4 and ascend uneven terrain to the ride summit at 6.4mi, then descend to the Sparks Lake road. Go right, to Cascade Hwy, then go left and ride to the Devils Lake Tr6.1 intersection
9.3mi: Go left onto Devils Lake Tr6.1 and ride around the lake to the parking area. Find Katsuk Pond Tr13 at the south end of the parking area and descend to Quinn Spring Meadows.
13.3mi: Go right at the Appaloosa Tr13.2 intersection and continue riding around the marsh area, back to the TH.