The Swampy-Dutchman Tr40 - Flagline Tr41 ride is one of the great high summer Bend area loops, only limited by the mid-Aug Flagline Tr41 (Elk calving) access restriction.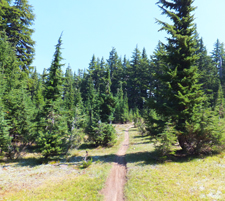 For those able to arrange a shuttle, the Dutchman Flat TH is also the starting point for the Mt Bachelor to Bend ride, traversing the Tumalo Tr25, Mrazek Tr32 and Phils Tr42 trail systems.
Consider the Swampy Lakes Sno-Park TH and the Dutchman Flat TH to be alternate trailheads.
The Swampy-Dutchman Tr40 to Flagline Tr41 loop ride, which is the main ride on this page, actually starts from the Swampy Lk Tr23 TH.
Starting from the Swampy Lakes Sno-Park TH creates a better ride profile than starting at the Dutchman Flat TH.
The Swampy Lakes Sno-Park TH is also the best starting point for the epic Swampy Lake Tr23, Metolius-Windigo Tr99, Flagline Tr41, Swampy-Dutchman Tr40 CCW Loop, covered on that page.
The Mount Bachelor to Bend ride can cross any terrain desired, but there are two routes which fit the terrain the best: The northern 24.8mi (1700' ascent) Mrazek Tr32 route or the 22mi (1750' ascent) Bens Tr50 route, depending on the desired terrain.
The Bens Tr50 route can turn into a tour of the area, by ending on COD Tr71, depending on the desired ride time.
Bachelor to Bend: Metolius-Windigo to Mrazek
Note: Flagline Tr41 is only open from Mid-Aug till it becomes snowed-in again, limiting the access to this ride.
TH: Ascend 2mi, past the Mount Bachelor nordic area to Flagline Tr41, then go left to Metolius-Windigo Tr99. Pass the Swampy Lake Tr23 intersection on the right at 7.9mi...but that's another ride.
9mi: Go right onto Mrazek Tr32 and ride to the Shevlin Park TH, or use Farewell Tr26 to connect to the Tumalo Tr25 system, then to Bens Tr50.