Built by mountain bikers, the Funner and Tiddlywinks sections of this COD Tr71 Lollipop ride have plenty of banked corners, technical sections, log rides and rock jumps.
Funner is combined with COD Tr71 to create the 'Cascade Lakes Highway Trail'. The ride can be extended to Mt Bachelor using Wanoga Sno-Park trails and shuttled as one of several Bachelor To Bend rides.
The Swampy-Dutchman Tr40 page covers the 'official' Bachelor To Bend ride.
The 11mi (1400' ascent) Tiddlywinks to Funner CCW loop could be ridden CW but the Funner terrain is an easier climb, and most riders will be going CW so if there is traffic then go with the flow..
Adding COD Tr71 to the ride increases the length and terrain to something worthy of 'destination ride' status, but the CW loop is often ridden by itself. Eastern Funner TH.
COD Tr71 is also covered on the Phils Tr42 page as a loop with Grand Slam Tr44, and on the Deschutes Tr2 page, so that portion of the ride overlaps with several other great loop rides and can be added to Funner and Tiddlywinks to create a figure-8 loop.
If riding from the Wanoga Sno-park TH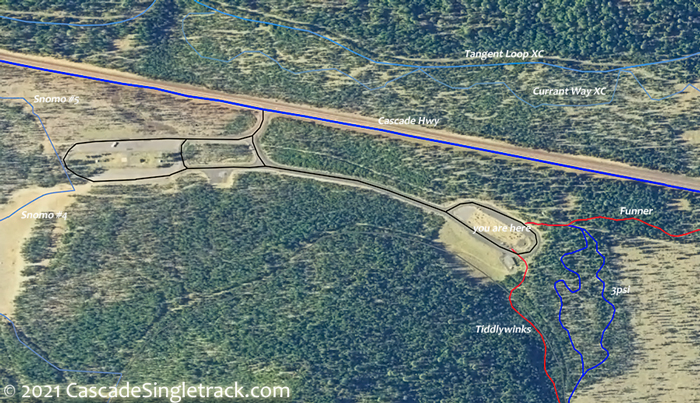 View of Wanoga Sno-park TH, the Tiddlywinks TH is near the restroom building, at the SE end of the parking area.
Funner is located near the NE corner, starting on the doubletrack at the edge of the parking lot.