Edison-Lava Trail 31 and Metolius-Windigo Trail 99 Area Mountain Biking and Hiking Topo Map
Map includes Edison-Lava Trail 31, Metolius-Windigo Trail 99, Snowmobile #4 Tr8004, Snowmobile #40 Tr8004.3 Mountain Biking and Hiking Trails.
TH: From the Edison Sno-Park TH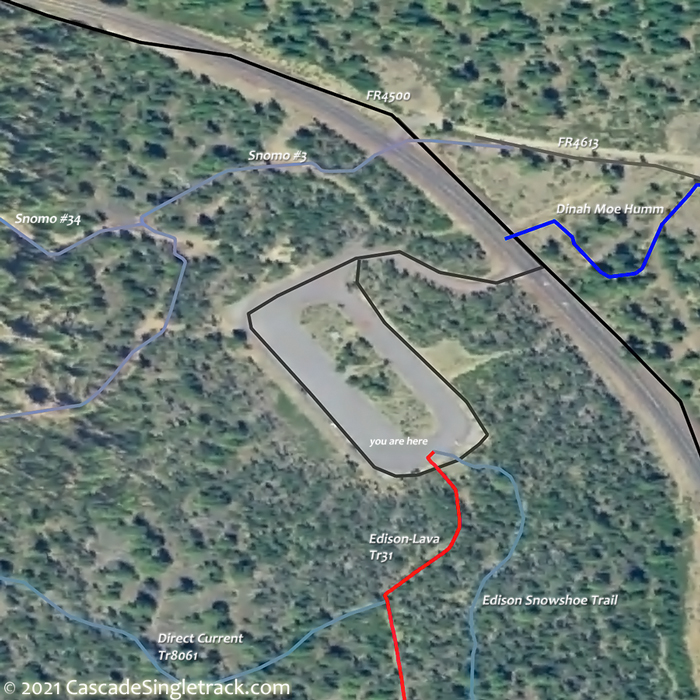 View of the Edison Sno-Park TH, ride through the gauntlet of XC Ski trails, reaching the Edison Ice Caves at 1.4mi and Supercharger Tr8065 at 2mi..
5.4mi: After a steady ascent, pass the Snowmobile #4 Tr8004 intersection and descend to the Little Lava campground.
10mi: Reach the Metolius-Windigo Tr99 intersection and return to the TH. Due to wilderness restrictions, trails west of the Cascades Hwy are off limits to biking.
Draggable map: Map window adjusts to screen size and will respond to touch control. Use scrollbar for mouse control.
No Map? Browser settings and some browser extensions can prevent the maps from appearing. Please see Site Tech