Across the Cascade Range, the 'Phils' trail system is unique.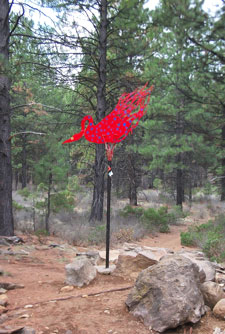 Nowhere else in the Cascade Range is there such an extensive system of interconnected trails. Taneum is the only other trail system which comes close, but covering much more challenging terrain.
With a total elevation change across the system of about 1000', the Skyliners Drive trail system is fast and fun. No pain, all gain.
Phils Tr42, Bens Tr50 and Kents Tr43 radiate outward from the trailhead, with Storm King Tr48 as the western boundary, COD Tr71 to the south, and Sector 16 Tr27 connecting to the Tumalo Tr25 trail system.
Major connecting trails are Elfin Magic Tr45, MTB Tr51 and Voodoo Tr46, with KGB Tr72 approaching the trail system from the southwest.
The trail stats are based on the ride described in the guide below, but are typical of most of the loops in this system.
Some of the major loops are shown below in the trail guide, but the terrain is agreeable for just about any kind of loop you desire.
The major intersections are all numbered, as shown in the Phils Trail System Area Topo Map.