Crater Rim Tr3957 is a high elevation, full length caldera ride, offering scenic views and challenging terrain.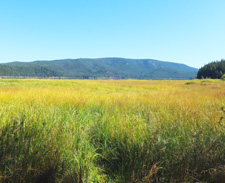 Crater Rim Tr3957 forms the outer rim, and trail conditions on the northern rim are too loose and sandy (waterbars and heavy use) to ascend, so the best full-loop route is CCW. Note: On the northern half of Crater Rim Tr3957, the eastern and western sections are also Snomo trails, so consist of wide doubletrack.
The Paulina Peak Crater Rim Tr3957 ascent is too steep for virtually all riders, who choose to use FR500 instead, and this is the suggested route.
The heat can be a challenge in the few summer months when the trail is rideable, so bring plenty of water and pace the ascent.
As with any ridgeline trail, Crater Rim Tr3957 elevation changes by a few hundred feet every few miles, so this is a challenging ride even past the initial Paulina Peak ascent.
The major snowmobile trails are marked, more as a warning than a suggestion, as they are mostly unrideable and don't form meaningful alternate loops for biking.
The Crater Rim Tr3957 route can be extended by either starting on Peter Skene Ogden Tr3956, or using Newberry Crater Tr3958, Lost Lake Tr3958.2 and Parallel Tr3958.3 to create figure eight or lollipop loops.
Peter Skene Ogden Tr3956 ascends Paulina Creek, from Prairie campground to Paulina Creek campground, passing McKay Crossing campground and Paulina Falls along the way.
There is no recreation fee charged for parking near the Peter Skene Ogden Tr3956 TH, although there is a fee for parking at the Prairie CG.
The 16mi (2500' ascent) OAB loop is a ride all by itself, although with Peter Skene Ogden Tr3956 only open uphill for biking, the FR2120 downhill is hardly worth all that effort.
Newberry Epic
A 36.5mi (6000' ascent) epic loop which combines Peter Skene Ogden Tr3956 and Crater Rim Tr3957, likely to exceed the stamina of many riders. Watch for heat stroke!
TH: Cross FR9736 just past the McKay Crossing campground, at 2.8mi. Pass some falls at 5.5mi and Paulina Falls at 8.4mi, then go right onto FR500.
8.7mi: Go east on FR21 from the visitors center for .2mi, then cross FR21 onto FR500 and ascend Paulina Peak. Go right onto Crater Rim Tr3957 at 11.7mi, the end of the main ascent. Pass the Lost Lake Tr3958.2 intersection on the left at 16.2mi, then briefly ride alongside FR2127 before crossing it (at an FR21 3-way) at 17.2mi, at the intersection with Parallel Tr3958.3. Bear right to stay on Crater Rim Tr3957.
22mi: After a gradual ascent along the eastern rim, pass a snowmobile track at 22mi, 22.4mi and 22.7mi, then pass the Newberry Crater Tr3958 intersection on the left at 22.9mi. Pass another snowmobile track on the right at 24.5mi (near North Paulina Peak), then begin the west descent, over loose terrain. The northside terrain is quite rugged and occasionally steep.
28.9mi: Reach FR21 and bear to the right onto FR500. At 34mi, jog right to FR2120 at the FR9736 intersection, then head back to the TH.