A good early or late season ride, Arnold Ice Cave Tr3963 can become a pathfinding expedition, due to low usage and lack of forest cover to help define and protect the trail.
Several long loops can be created by combining Arnold Ice Cave Tr3963, Coyote Loop Tr3962 and Swamp Wells Tr3961, with some connector trails such as Boyd Cave Tr3966 to shorten the ride if desired.
There are three trailheads, at Horse Butte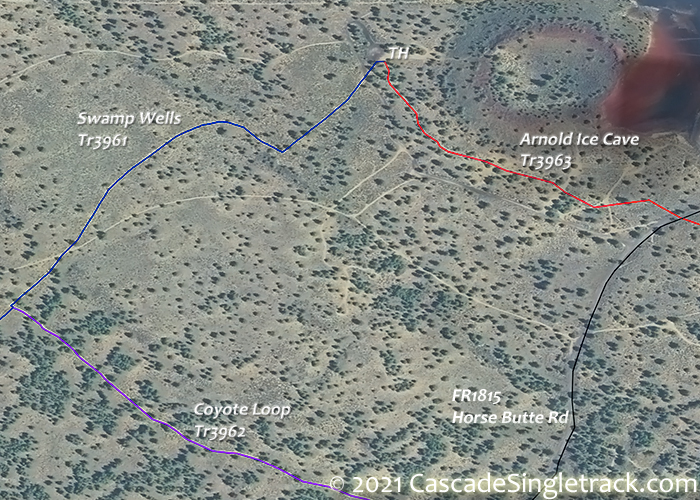 View of the Horse Butte TH, at Arnold Ice Cave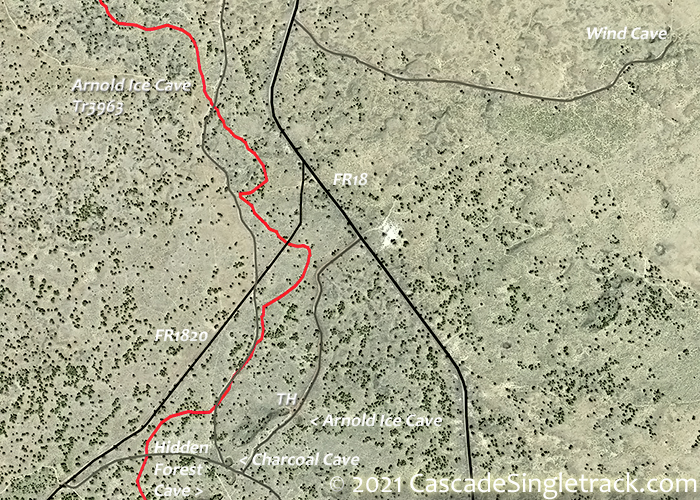 View of the Arnold Ice Cave TH and at Swamp Wells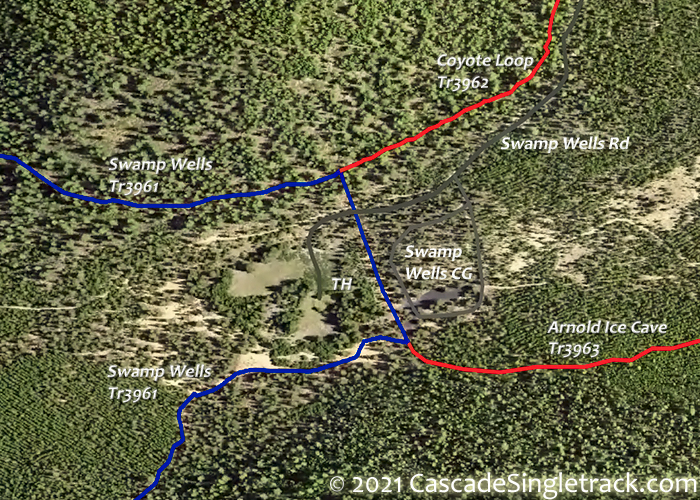 View of the Swamp Wells TH.
As FR18 is the only paved road in this area, Horse Butte TH gets the most use, but the Arnold Ice Cave TH is equally good.
Dings: Some of the local quarries are used as shooting ranges, so don't be too alarmed if you hear gunshots (unless of course you see bullets whizzing by). These trails get some equestrian use as well, so can become chewed up in wet, early season conditions. This trail system is near Bend and there is an extensive Orv trail system southeast of Arnold Ice Cave and the hundreds of fireroads in the area are popular with Orv as well.
Due to the lack of tree cover, expect high temperatures in August on Arnold Ice Cave Tr3963 and Coyote Loop Tr3962.
Arnold Alternative: A 25.5mi (2500' ascent) Swamp Wells Tr3961 to Coyote Loop Tr3962 CCW loop spends more time in the forest and avoids some of the pathfinding needed on the Arnold Ice Cave Tr3963 north of FR18.