Sawtooth Tr1401 and Lost Creek Tr3462 are connector trails for the Hardesty Tr3469 Goodman Loop, with Hardesty Way Tr1402 and Mt June Tr1400 spur trails adding enough length to make this branched ridgeline trail system worth riding on its own.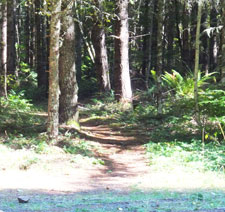 Sawtooth Tr1401 is an uneven ridgeline trail, connecting Hardesty Mountain and Mount June. Short, mostly gentle ascents and descents are joined by occasional level stretches through the ridge top saddles, with old growth forests to several open grassy meadows and rock bluffs.
The Mount June ascent is short but steep. The first 1.2mi of Hardesty Way Tr1402 ridgeline covers relatively flat terrain, so could be included as an additional spur ride.
Including Lost Creek Tr3462 in a ride which starts from the Sawtooth TH creates an inverted ride profile, so better to start from the FR511 Lost Creek TH.
Although not highlighted, it is possible to approach the Lost Creek Tr3462 TH from Lost Creek Rd and either Eagles Rest Rd (FR509) or FR512, but expect many intersections and uncertain road conditions.
As with other 'way' trails, Hardesty Way Tr1402 was designed to provide direct ridgeline access to the mountain and so covers steep terrain. The original 'way' trail is abandoned and now the lower 1.2mi follows FR161. The upper 1mi follows a steep ridgeline traversing a varied forest with occasional clearings which provide viewpoints to the west.
Mount June Tr1400 is a steady hike to the summit, with a 360 degree view of the Willamette Valley, the Coast Range and numerous Cascade Range peaks. The FR941 trailhead is accessed from FR511.