Crawfish Tr1421 is a popular loop which could be CW or CCW, but Crawfish Tr1421 is an easier ascent than Adams Mt Tr1419.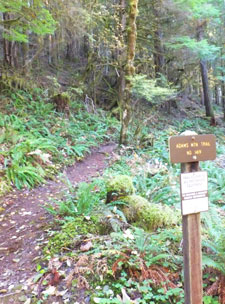 The tradeoff is that Crawfish Tr1421 is often considered a better downhill ride than Adams Mt Tr1419, so stronger climbers may prefer to ride this as a CW loop.
Crawfish is a favorite with downhill riders, who shuttle to Knott Tr1417 on FR2241, so may be a hassle/hazardous to ascend on the weekends.
FR2241 offers a 10% grade ascent to the top, a more reasonable loop ride than the Adams Mt Tr1419 ascent. Also consider using FR2263, FR717, FR834 (6mi, 2500' ascent) to Crawfish Lake, then hike-a-bike to FR2241.
Nearby Brice Cr Tr1403 can be added on as an end-of-day or second ride.
Bohemia National Recreation Trail 1407 extends to the eastern edge of Knott Tr1417, but is best approached from the south.
Hiking: Expect to encounter hikers on all of these trails. From the Mineral CG on Sharps Creek Rd (Co Rd 2460), Fairview Creek Tr1408 offers hikers 3mi of seclusion through second growth Douglas fir as it leads to the Fairview Mountain mining camps. Hardscrabble Ridge also has a trail, which is not maintained but something to check out if camping in the area.