There are several ways to experience the epic Alpine Tr3450 ridgeline trail, depending on ride and climbing preferences. Ascending FR1910 to create an Alpine loop may not seem very epic to some people.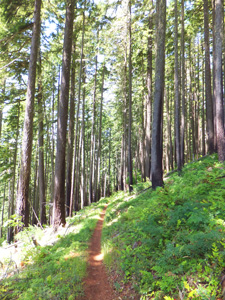 The southern Alpine terrain is also part of the Tire Mtn Tr3485 and Cloverpatch Tr3457 CCW Loop.
Forest roads create mid and northern Alpine Tr3450 access points.
The initial 1mi ascent is a 19% grade (followed by a 10% incline over 5.5mi), but strong climbers might be able to hike-a-bike the first mile and climb the rest. Beware: Consider that virtually all of the traffic flow is North to South, and that the steepest sections of the trail have loose conditions due to all the high speed downhill traffic.
From the west, Alpine Tr3450 can also be accessed from the 3.5mi (17% ascent) Gold Point Tr3468, although that approach is too steep for most riders.
FR5828 OAB: A better OAB option is to drive 1.6mi from the Alpine North Fork TH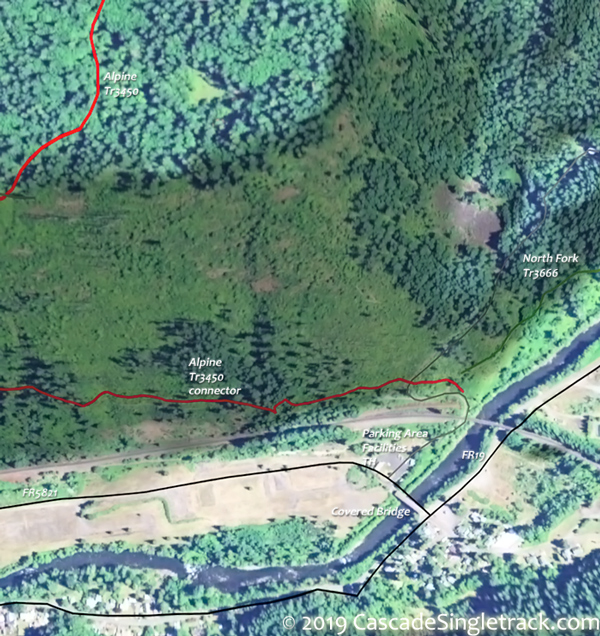 View of the Alpine North Fork TH, towards Lookout Point Lake on FR5821, then go right on FR5828 for 3.8mi. This avoids the last 1.5mi of Alpine Tr3450, resulting in a 37.5mi (9700' ascent) epic OAB ride.
Northern approach: A moderate 29mi (7200' ascent) OAB option is to start from the Alpine FR1835 TH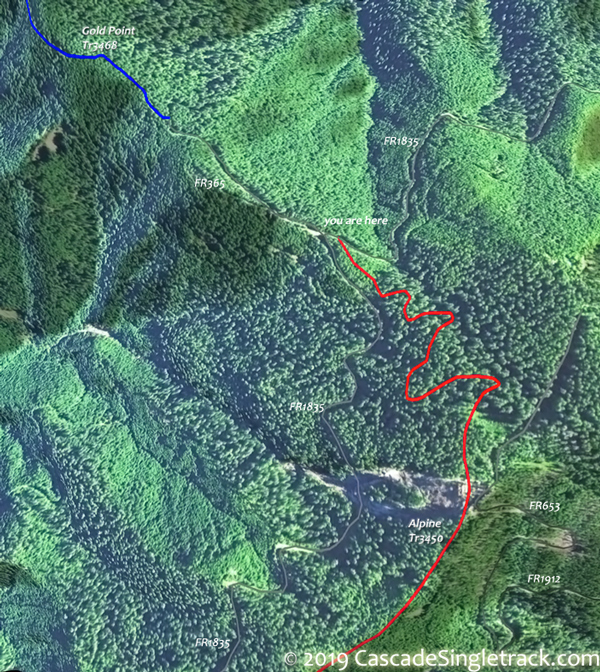 View of the Alpine FR1835 TH, using FR18/FR1835, with a Windy Pass or Tire Mountain Tr3485 intersection turnaround (just prior to the southern descent).
The steepest incline is 7%, on the Sourgrass Mountain ascent from MP5 to MP9.
FR1910-Alpine CCW Loop: Although a popular loop option, the FR1910 8mi road climb option involves climbing 4500' over an uneven 10% grade, and so is not much easier than simply climbing/hiking Alpine.