Larison Creek Tr3646 is an ascent from the Hills Creek Reservoir shoreline to the headwaters of Larison Creek.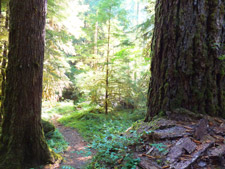 Nearby Larison Rock Tr3607 offers much more challenging terrain, while M. Fork Willamette Tr3609 and Salmon Cr Tr4365 are easier rides, for those seeking something less trenuous.
When clear of brush, FR2106 can be used for a shuttle ride, although the upper section of that road is not maintained and becomes overgrown. FR2106 is gated and, seasonally dependent, that gate may not be open. Although damaged, FR101 is usually passable by car.
The last .8mi of Larison Creek Tr3646 is a steep 19% grade, but the lower section of this 5.9mi trail is only 7% grade, suitable for a challenging 10mi OAB ride. Ascending alongside Larison Cove, Hills Creek Reservoir, then Larison Creek, intermediate riders would find Larison Cr Tr3646 to be a technically challenging OAB ride, with a steady grade but uneven terrain and a number of creek crossings along the way.
FR2101 and FR101 create a loop option, although the (rough) 8.3mi FR101 section covers some uneven terrain, adding 3900' of climbing to gain 600' in elevation.
This is a lot of forest road use, but is the only good loop option so it is described below.