Brice Creek Tr1403 traverses a scenic, rocky canyon with numerous small waterfalls and pools along Brice creek and can be linked with Crawfish Tr1421.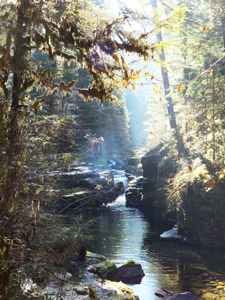 Brice Creek Tr1403 has footbridge river crossings at Cedar Creek CG and Lund Park CG, an alternative to riding on the narrow Brice Creek Rd when riding the Crawfish Tr1421 loop.
Adding the Upper Trestle Creek Tr1403D falls loop to this OAB river ride increases the difficulty somewhat but is still a moderate ride, suitable for advanced beginners. The .25mi Trestle Creek Tr1403C provides access to the lower Trestle Creek Falls and the Upper Falls is a 65' tiered waterfall set in a lush fern grotto.
The technical challenge increases beyond the Lund Park CG area, with more rocks and varied terrain. At one point the trail merges with the creek, requiring a scramble across the smooth basalt surface.
That section would likely be impassible or dangerous during Spring runoff. Although Brice Creek Tr1403 is well suited for a pleasant Fall ride, consider avoiding the trail during high summer weekends due to the easy access from area campgrounds, or expect constant interaction with hikers.
Hiking: Nearby Parker Falls Tr1415 leads through old growth Douglas fir to a series of waterfalls, pools and cascades, a narrow trail with several steep and rocky sections. At .6mi a short side trail leads to a viewpoint of the lower 35' falls, then continue the ascent to the top of a cascading waterfall.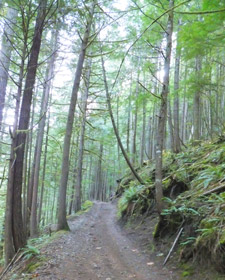 Noonday Wagon Rd Tr1405 (doubletrack, shared with ORV) could be added as well, doubling the ride length. This narrow road could be considered as a ride or day hike if camping in the area.
The trail was constructed in 1896 as a wagon road for hauling supplies and equipment into the Bohemia gold Mining District, and active claims are marked throughout the Brice Creek and Noonday Ridge area.
Warning: Mining areas present unique hazards to the hiker and explorer, with tunnels and mining adits which end abruptly, often at a deep vertical hole.
As an 13.5mi OAB ride, Noonday Wagon Rd Tr1405 has a 12%, 5300' ascent (total climbing).
Mosquitoes are ferocious in this area until August. Feel free to try the natural repellents, and avoid drinking carbonated drinks prior to riding, but Deet 100 may be the only protection from 'the swarm'. Expect some trailside poison oak and prepare as needed. Try using Tecnu before the ride.