Larch Mountain Tr441, Multnomah Cr. Way Tr444 and a non-restricted section of Oneonta Tr424 offer some steep, technical singletrack, close to Portland. Just be sure to wait for dry conditions and be ready for rough terrain.
The Multnomah Falls headwaters originate at Larch Mountain, the source for Multnomah Creek and Oneonta creek.
Too short to be a destination ride, the extinct shield volcano caldera loop offers some steep technical terrain for a short afternoon ride.
Expect the caldera snowpack to last well into June.
This CW loop consists of Larch Mountain Tr441, Multnomah Creek Way Tr444 and Oneonta Tr424.
Those seeking greater climbing challenges might try a CCW loop.
The trail can be pretty loose and rooty, with the occasional stair-step trail surface.
Large rocks and water bars help complete the amusement ride.
The lowest elevation of this loop is at the northern Multnomah Creek Way Tr444 footbridge, so consider the Larch Mountain FR315 TH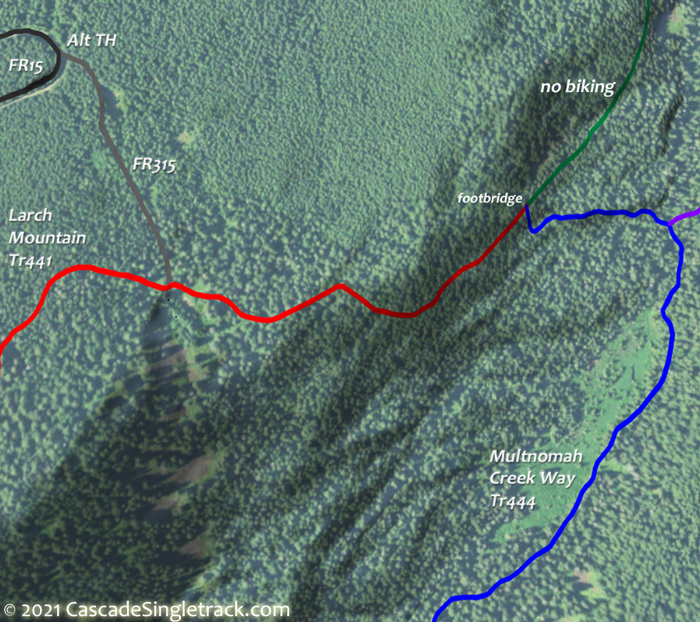 View of Larch Mountain FR315 TH instead of the Larch Mtn parking lot.
Columbia River Gorge National Scenic Area Hiking
Several good day hiking loops or various length and difficulty. The Gorge walls are steep, with FR777 (gated, just past the water tank) providing easier access to the upper terrain.
Tanner Butte Tr401 starts in Douglas-fir and noble and silver fir, then switchbacks to Dublin Lake. Create a loop by returning on Tanner Cutoff Tr448. The Columbia Wilderness portion of the trail is brushy and requires good route-finding skills.
Gorge Tr400 parallels I-84, provind a connector for Oneonta Tr424 and Nesmith Point Tr428.
Munra Point Trail and Wahclella Falls Trail are each .9mi in length, offering short dayhike potential.