Larch Mountain Trail 441 Area Mountain Biking and Hiking Topo Map
Map includes: Angels Rest Trail 415, Devils Rest Trail 420-C, Franklin Ridge Trail 427, Larch Mountain Trail 441, Multnomah Creek Way Trail 444 and Oneonta Trail 424 Mountain Biking and Hiking Trails.
Multnomah Creek Way to Larch Mountain CW Loop
TH: From the Larch Mountain FR315 TH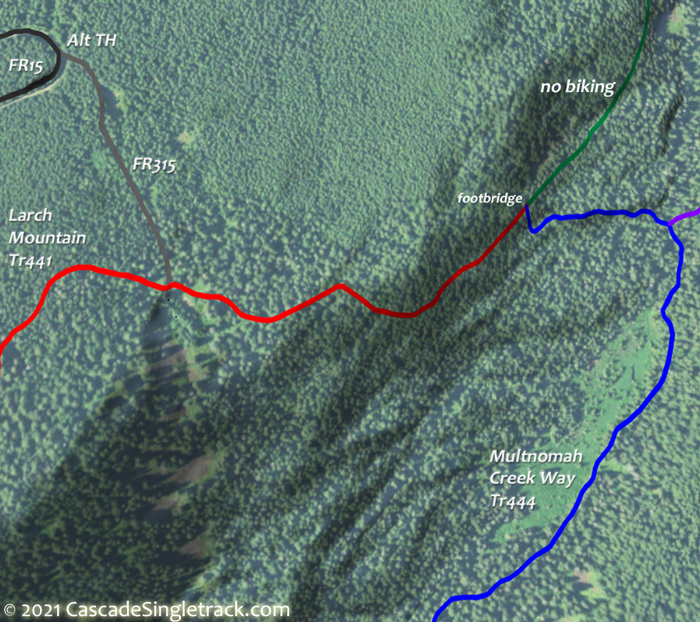 View of Larch Mountain FR315 TH, ride .3mi to the Larch Mtn Tr441 intersection, just prior to the end of FR315, and go left. Descend .8mi, then go right onto Multnomah Cr. Way Tr444 and continue to the intersection with Multnomah Spur Tr446, then go right to stay on Multnomah Cr. Way Tr444.
1mi: Cross the footbridge then begin a gradual ascent that gets steeper after crossing the first creek. Cross the second creek at 1.8mi then work through several switchbacks over rough terrain. Reach the top of this section at 2mi, then continue climbing for .5mi, working around the base of Sherrard Point.
3.5mi: After a mile of relatively flat ridgeline terrain, go right on Oneonta Tr424 and ascend 1mi to FR15 and the Larch Mountain parking area.
4.9mi: At the far end of the parking area, go on Larch Mtn Tr441 and reach the ride summit near the camping area, then enjoy the 11% descent to FR315.
6.3mi: FR315 intersection. Not enough? Do it again..
Draggable map: Map window adjusts to screen size and will respond to touch control. Use scrollbar for mouse control.
No Map? Browser settings and some browser extensions can prevent the maps from appearing. Please see Site Tech