Post Canyon - Seven Streams has trails pointing in just about every direction possible, within two ridgelines. A great alternative to a rainy Portland afternoon.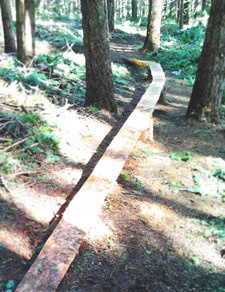 Hood River Area Trail Stewards HRATS have put a lot of effort into this trail system, and it shows in how well these trails have held up over the years. Consider helping to maintain and build the trail system...a great use of a day.
The area offers an ever-increasing variety of stunts, for various skill levels, with constant maintenance and innovation to keep it interesting.
Lots of freeride and trials ramps and teeters, but several hours of nice, twisty singletrack mixed in as well.
Several really nice hillside trails, some of which don't get much use, and all of the terrain is well suited for building intermediate-rider skills.
This non-destination, local trail system is worth checking out after some more substantial ride or when it's too wet or cold elsewhere.
Note: As with most bike parks, the existence of trails and their names changes as needed by the condition of the terrain. Please only use the map and names as a general guide.
Hospital Hill is nearby, an active tree farm for Stevenson Land Company, so sometimes closed for logging.
The Green Point Reservoir is southwest of the Post Canyon - Seven Streams area, with extensive Orv trails near the Kingsley CG.