The very-popular Sandy Ridge trail system is located on the southern boundary of the Bull Run Watershed Management Unit, part of the Homestead Trail System.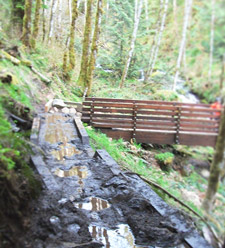 Built by NW Trail Alliance. Currently too short to be a ride destination, with up to 15mi of trail development planned. Low elevation and easy access to Portland ensure the continued popularity of this well designed, twisty singletrack.
Hide and Seek is a 3mi (1100' descent) with roots, rocks, rollers and jumps providing enough technical challenges to keep the entire descent interesting. Laura's Loop is a .75mi beginner loop near the gate with smooth, easy trails, also good as the final descent to the TH.
New trails are in the works, such as Communication Breakdown and Rippity-Do-Da. Three Thirty Eight (1.7mi) and Quid Pro Flow (1.6mi) offer a chance to linger near the trail system summit, before the Hide and Seek roller coaster ride back to the TH.
Rock Drop is the most technical area and the upper half of Hide and Seek contains plenty of rock and root drop offs, leading to reinforced, banked curves and the temptation to do something stupid.
All of the trails are one-way (and well marked), so every ride starts with a 3.4mi FR14 (Homestead Rd) ascent (an 8% grade paved road and well worth the effort).
Salmon-Huckleberry Wilderness Hiking
The Salmon-Huckleberry Wilderness area offers some easily accessible hiking trails, covering the steep terrain of Huckleberry Mountain and McIntyre Ridge, south to Eagle Creek.
Bonanza Tr786 TH is on East Grove Ave and follows Cheeney Creek before switchbacking to Plaza Tr783.
Plaza Tr783 and Mcintyre Ridge Tr782 are the two north-south ridgeline routes to Douglas Tr781. Plaza Tr783 continues past Coffman Camp to Sheepshead Rock (4,460'), then descends to FR4610 Abbott Rd.
Mcintyre Ridge Tr782 breaks in and out of the trees on the east side of the ridge, with open views of the Salmon-Huckleberry Wilderness and Mount Hood.
From the SE Harvey Rd TH, Douglas Tr781 is the main east-west connector, offering open views from the ridge along Wildcat Mountain'
The very popular Eagle Creek Tr501 offers numerous creek side campsites, and passes through old-growth Douglas fir, western hemlock and western red cedar forest as it gradually ascends to the Eagle Creek headwaters.