The Peterson Ridge Sisters Mountain Bike Tr4090 is a trail system which extends outward in interlocking loops from south of town.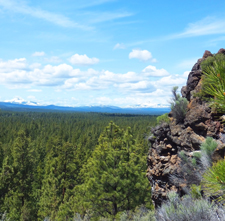 With plenty of terrain to explore, avoiding doubletrack in this area is easy enough to do and well worth the effort.
Although the terrain is too easy for this to be a destination ride, this is a favorite ride for those staying in the Sisters area, and worth checking out.
CW directions are given in the guide below, but the west side terrain is less technical, making a CCW loop somewhat easier.
This is a shared use trail system, with equestrians on the doubletrack and on some of the singletrack.
Plenty of ways to bail out to FR16 and FR4606, if needed.
Rather than simply riding the loop, use the many connectors to create a serpentine ride.