The Lower Dungeness Tr833 to Gold Creek Tr830 loop is a challenging looping traverse of the Dungeness River drainage and Dirty Face Ridge, near the Buckhorn Wilderness.
Option: Intermediate riders often ascend FR2860 to Three O'Clock Ridge Trail, to avoid the steepest section of Lower Dungeness Tr833.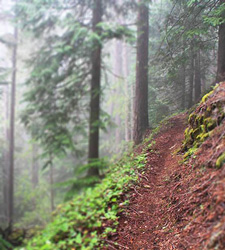 The ride is long and challenging enough to be worth the drive (or ferry ride from Seattle), making this the best destination ride in the Olympic National Forest. Also see Mount Muller Tr882, at the western ONF boundary.
Ding: These trails are also open to motorcycles and horse, so expect some traffic on summer weekends. Also expect some combination of cliff exposure and narrow, technical trail, with some root drop offs along the way.
The ride length is sometimes listed as up to 20mi, which depends on parking and use of FR2860 to ascend to Gold Creek Tr830.
The other Dungeness: There is another Dungeness section open to biking, sometimes called Dungeness Tr833 and more aptly called Lower Big Quilcene Tr833. Accessed from the FR27-080 (lower) TH and the FR27-2750 (upper) TH, this is a 5.9mi (1800' ascent) section which follows the Quilcene river to the Buckhorn Wilderness boundary, crossing the river near the Bark Shanty Shelter, but otherwise a relatively dry ride (five other creek crossings).
Maintain distance from any cougars (or especially their cubs), and back away slowly if needed, arms slowly waving in the air. A ride bell is a good way to help the wildlife maintain distance.
Olympic National Park Hiking
The National Park includes most of the National Forest, with some wilderness areas at the periphery.
To the west of Lower Dungeness Tr833 are 30mi of hiking trails between Gray Wolf River and Deer Ridge, accessible from the Slab Camp TH and Deer Park Rd.
Deer Ridge Trail 846 ascends from the FR2875 Slab Camp TH to the Deer Park Campground, with a sometimes steep (35%) grade. The ridgeline hike continues within the park on Obstruction Point-Deer Park Trail, with Grand Pass or Badger Valley Trail as a connector to Cameron Creek Trail, returning on Gray Wolf Tr834 as a very challenging 36mi loop. Ice axes are recommended for traversing the slope at the top of the Badger Valley Way Trail.
The 18mi (8900' ascent to Gray Wolf Pass) Gray Wolf Tr834 is an easily accessible valley trail which passes through subalpine forest and meadows, with Graywolf, Three Forks, Camp Ellis and Falls Camp sites within the national park boundaries. The trail descends steeply an additional 3mi from Gray Wolf Pass Main Fork Dosewallips River Trail.
The Area Map includes other Buckhorn Wilderness and Olympic National Forest hikes, such as Mount Zion Tr836, Mount Townsend Tr839 and Little Quilcene Tr835.
Main Fork Dosewallips River Trail steadily ascends from 2000' to 4500'. Check conditions, as at last check the Dosewallips Road was washed-out 5.5mi from TH.
The 17mi (5400' ascent) Duckabush River Tr803 is an easy grade for 2.4mi, with a steep and technical section while ascending Big Hump. Five Mile, Ten Mile and Upper Duckabush camp sites are along the way to O'Neil Pass Trail.
Always carry the 10 Essentials: map, compass, flashlight, knife, matches, nylon cord, extra food and water, and rain gear with warm clothes.
The ONP site offers current wilderness trail conditions and map.
For ONP camping permits, go to the Wilderness Information Center (WIC) in Port Angeles. No reservations necessary.