Green Mountain: Gold Creek to Wildcat Trails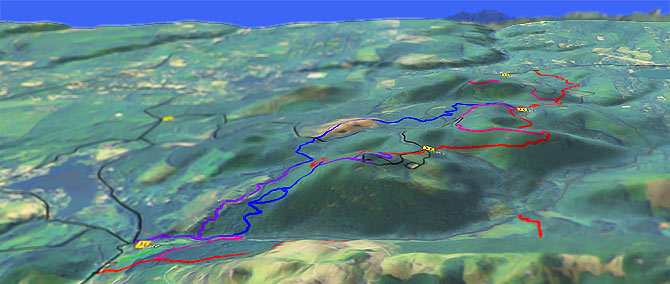 Near Bremerton, Gold Creek and Wildcat are interconnecting Green Mountain trails, with Beaver Pond as a popular loop for Gold Creek and Tin Mine as a spur with some fireroad connectors.
This popular, but short, non-destination system of Washington DNR trails are worth checking out if in the area.
The two most popular rides are the 9mi (2750' ascent) Wildcat to Vista OAB and the Gold Creek-Beaver Pond lollipop.
Don't let the short ride lengths deceive. These rides include 10% grade ascents, although over relatively short distances. So expect to be challenged but not to the point of exhaustion.
Plummer and the unmaintained Tin Mine can be added to either main ride and those seeking more ascent can ride from TH to TH or add Beaver Pond to the Wildcat ride.
The 1680' Green Mountain summit is the second highest peak on the Kitsap Peninsula. The .25mi trail nearest the summit parking area is closed to bikes, so be sure to walk that section.
Directions: W. Belfair Valley Rd past the Airport, to NE Old Belfair Hwy, then a right on NE Bear Cr Dewatto Rd. Turn right onto Gold Creek Rd W. and go to the Green Mtn TH. View Larger Map. No Map?.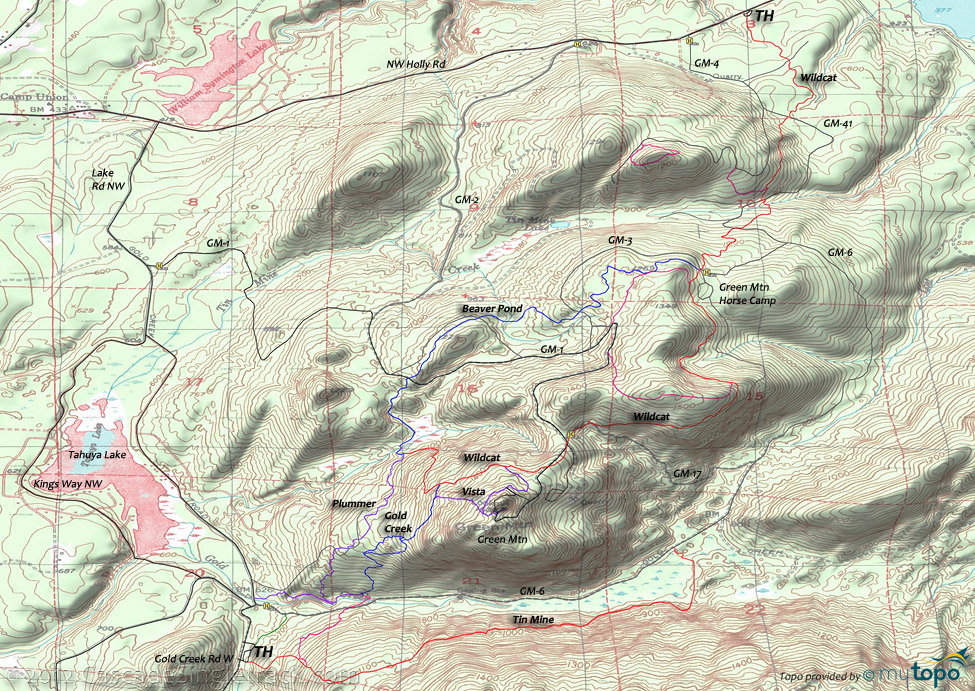 bremerton mtb
TH: Ride .5mi from either the Gold Creek TH parking lot or the singletrack which parallels GM-6 (uphill of the creek), to the 5-way Gold Creek intersection and work the steep ascent to the loop intersection.
1mi: Go right, to take the downhill side of the loop, then bear right at the end of the loop and complete the ascent to Wildcat.
1.6mi: Go left on Wildcat and descend to the Beaver Pond-Plummer intersection, then bear right and ascend around the beaver ponds, crossing a wooden bridge then GM-1 at 2.5mi. Cross a GM-1 spur at 2.9mi and GM-3 at 3.4mi, then continue to bear left at the 3.9mi side trail T intersections.
4.1mi: Go right onto the occasionally technical Wildcat, passing a side trail at 4.9mi. After passing a clearcut, Wildcat briefly merges with GM-17 at 5.6mi then crosses GM-1 several times before reaching the Vista intersection.
6mi: Go left onto Vista and ascend the steep slope to the Green Mountain ride summit. Descend the side trail to Gold Creek at 6.7mi and go left, returning to the TH.
Option: Continue on Wildcat and descend the sometimes wild Plummer trail.