Skookum Flats Tr1194 is not the single best river trail ever created, but it does pack a lot of fun into a fast ride.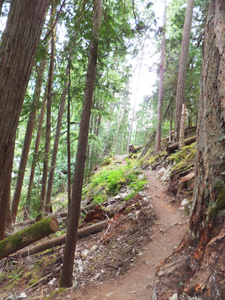 Easy access from Seattle, combined with some moderately technical singletrack makes this ride extremely popular...and sometimes a little over-rated.
Skookum Flats Tr1194 follows the rugged terrain of the south side of the White River.
The area is often soaking wet and also expect lowered temperatures, due to the glacial water flow of the White River.
Even during high summer months, be sure to bring an extra thermal layer.
Skookum Flats Tr1194 can be combined with White Rvr Tr1199 into a relatively easy CW loop.
More aggressive loops can be created by combining Skookum Flats Tr1194 with Palisades Tr1198 or Suntop Tr1183, covered on those pages. See the Area Map.
A CW White Rvr Tr1199 to Skookum Flats Tr1194 loop, starting from FR7300 or the Dalles Campground, provides the best ride profile, although the terrain is flat enough that the loop can be started from any point.
Near Camp Shepard, Buck Cr Tr1169 includes a pedestrian bridge and enables the loop to be cut in half, but why shorten a 10mi ride? Buck Cr Tr1169 leads to Snoquera Falls Tr1167, but expect heavy pedestrian traffic in this area.
Skookum Flats Tr1194 continues beyond FR7160, paralleling the Ranger Creek emergency airstrip and FR7190, then becoming primitive and ending near the Silver Springs Campground (at the Mount Rainier National Park boundary).
Mount Rainier Hiking: The northeastern section of Mount Rainier is easily accessible from FR7300, with the main eastside entrance at Sunrise Park (From Skookum Flats TH, 12.5mi on SR410 and 16mi on Sunrise Park Rd).
FR7300 leads to FR7340, to the Huckleberry Creek TH and a 8.4mi hike along the creek, to the McNeeley Peak-Mt Fremont saddle. With another vehicle, a shuttle to FR7550 would be a 20mi (5700' ascent) hike.
Glacier Basin is a gradually intense hike, leading to the Emmons Moraine Glacier climbing route (and the Liberty Ridge route) at Glacier Basin, passing through a wetland area to the base of the Inter Glacier. Camp Schurman and other sites are used by climbers on their way to Emmons Glacier, the largest glacier in the continental U.S.
Wonderland Trail is 93mi and circumnavigates Mount Rainier, crossing varied terrain, from lowland forests to high alpine. The northwestern section of Wonderland Trail is covered on the Christoff Tr1171 page, along with Frog Mountain Tr1180 and nearby Clearwater Wilderness trails.
For much more information, check out the Mount Rainier National Park Trail guide, which includes descriptions of all trails and a variety of maps.