Suntop Tr1183 can be ridden as an OAB, starting from the gate, located 3.5mi up FR7160, or as a loop when combined with Skookum Flats Tr1194.
A loop ride should be approached from the FR7300 Skookum Flats Tr1194 TH.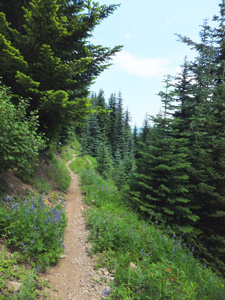 The first 3.4mi (1700' ascent) of FR7300/FR7315 can sometimes be avoided by parking at the gate (as part of a shuttle), but since there are no parking spaces at the gate, this only works on weekdays when traffic is light. The gate is sometimes open, allowing a shuttle to the Suntop summit.
Parking the other vehicle at the Skookum Flats FR7160 TH reduces a shuttle ride by another 5.1mi.
But for those seeking the full, near-epic Suntop Tr1183-Skookum Flats Tr1194 loop ride, deal with the road climb and get on with it.
Doe Falls Tr1174 is a little detour to a small springtime waterfall.
The Suntop summit includes a lookout, with great views of Mt Rainier, Crystal Mountain, Noble Knob, Huckleberry Ridge and Green Mountain.
OAB option: The 20.5mi, 6500' ascent Suntop Tr1183 OAB ride involves climbing FR7160 5.6mi (2400'), then an OAB on Suntop Tr1183, followed by a descent to Skookum Flats Tr1194 near the Ranger Creek landing strip, then riding Skookum Flats Tr1194 back to the TH.
For shuttle riders, the FR7160 gate is at the 3.5mi mark, avoiding 1600' ascent.
As with the FR7315 gate, parking is very limited.
The condition of these two roads may at times make them impassable by vehicle, limiting shuttle opportunities.
Parking at these gates on the weekends may be impossible, hazardous to the vehicle, or merely considered rude.
Mount Rainier National Park Hiking: Huckleberry Creek Trail is nearest to the Suntop Tr1183 TH, accessed by continuing south on FR7300 to FR7340. Northern section maps are on the Christoff Tr1171, Crystal Mt Tr1163 and Skookum Flats Tr1194 pages.
For much more information, check out the Mount Rainier National Park Trail guide, which includes descriptions of all trails and a variety of maps.