The Twins Trail 3595 and Waldo Lake Trail 3590 Area Mountain Biking and Hiking Topo Map
Map includes: Betty Lake Trail 3664, Black Creek Trail 3551, Blair Lake Trail 3553, Bobby Lake Trail 3663, Koch Mountain Trail 3576, Lily Lake Trail 19.3, The Twins Trail 3595, Wahanna Trail 3583 and Waldo Lake Trail 3590 Mountain Biking and Hiking Trails.
Waldo Lake CW Loop
TH: From the North campground Day Use Area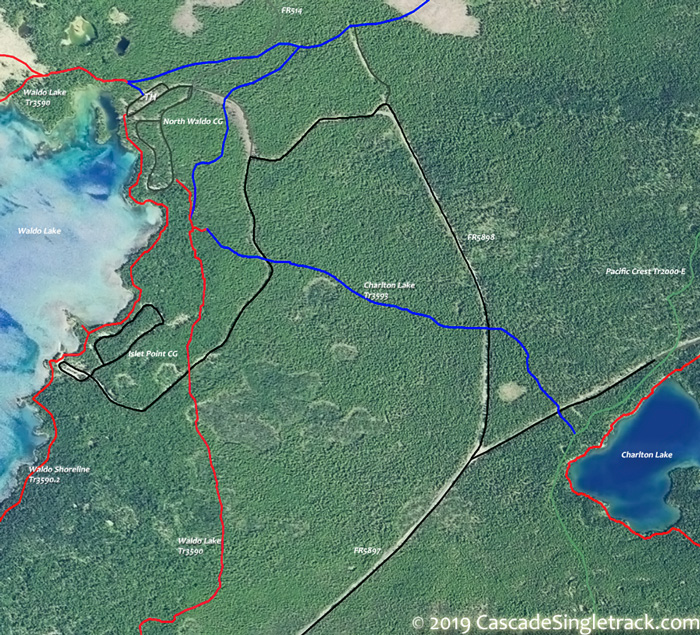 View of the Waldo Lake Northern Day Use TH, ride along the shoreline on Waldo Shoreline Tr3590.2 to the Breakwater boat ramp, just past the Islet campground (a Tr3590.2 spur continues for 1mi over flat shoreline terrain). Climb FR5898 to Waldo Lake Tr3590 at 1.7mi, then go right and continue the gradual ascent alongside the east shore of Waldo lake. Reach the ride summit at 3.6mi, having ascended a total of 550'.
6.2mi: After a moderate descent and having passed Shadow Lake, cross FR5896. Pass the Betty Lake Tr3664 intersection on the left at 6.6mi, then approach the lake at 7.1mi, near Shadow Bay. See Map. There is an alternate route which avoids the Shadow Bay CG.
8.2mi: Pass the South Waldo Tr3586 intersection on the left, just past the South Waldo Shelter. Pass Tr3572 on the left at 8.8mi, with several steep climbs and increasingly technical trail conditions. Pass Tr3551 on the left at 10.6mi near Klovdahl Bay, then ascend the western slope. Pass a 4-way intersection with Tr3576, before descending past the western side of Green lake (the end of the technical section on this trail).
17.4mi: Tr3583 merges from the left, cross the North Fork of the Willamette river, then pass another Tr3583 fork at 14.4mi. Pass Tr3555 on the left at 18.9mi.
19.6mi: Reach the Waldo Shoreline Tr3590.1 intersection. Go either way back to the TH, but there is likely to be more foot traffic by the lakeside.
Draggable map: Map window adjusts to screen size and will respond to touch control. Use scrollbar for mouse control.
No Map? Browser settings and some browser extensions can prevent the maps from appearing. Please see Site Tech