Waldo Lake Tr3590 is about as good as a lakeside ride can be, with enough terrain variation to keep it interesting.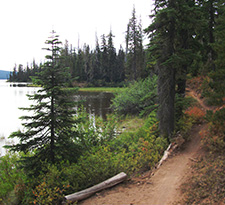 The main issue with lakeside rides is that lakes tend to be...kind of flat. As with Applegate Lake Da-Ku-Be-Te-De to Payette Tr970, Waldo Lake Tr3590 wanders far enough from shore to avoid excessive sleepiness.
Ding: The campground areas near the East and South side results in heavy foot traffic and overuse of those trail sections. Riding 8mi OAB from the North Waldo parking area to Koch Mountain Tr3576 is nearly as long as the full loop, avoiding the somewhat boring South and East side trail sections.
With plenty of area camping, Waldo Lake is suitable as a mountainbike destination, with enough other trails in the Waldo Lake area to justify repeat visits.
Most of the lake is surrounded by wilderness areas, so all of the connecting trails are off limits to riding, with the more vertically-challenging South Waldo Lake rides covered on the South Waldo Lake page.
Although it's possible to include Waldo Lake Tr3590 with Lemish to Charlton ride, using Charlton Lake Tr3593 as a connector trail, that ride works better when started at the Lemish TH.
As with riding in the Lemish Lake area, mosquitoes are ferocious in this area until August. Feel free to try the natural repellents, and avoid drinking carbonated drinks prior to riding, but Deet 100 may be the only protection from 'the swarm'.
Aside from the lakeside ride, there are two variations of a Metolius-Windigo Tr99 loop worth considering, one steep, one long and both including as much of Waldo Lake Tr3590 as desired.
The Twins to Charlton Loop

The 19.5mi (2900' ascent) Charlton-Twins-Waldo CCW loop includes a 1550' 3.7mi (8%) ascent, challenging but still a moderate ride.
The Twins Tr3595 should only be ridden west to east, as the Deschutes side has a loose, sandy trail surface, which would be very difficult to ascend.
Windigo-Waldo Epic
A 26mi (3050' ascent) CCW Loop of Metolius-Windigo Tr99, Charlton Lake Tr19/Tr3593, Waldo Lake Tr3590, Betty Lake Tr3664, Bobby Lake Tr3663 and Moore Creek Tr3840, covers all of the eastern Waldo Lake terrain. To complete the main ascent at the beginning of the ride, start from FR4652 (Pine Butte Loop Rd, accessed from Cascade Hwy near the Wickiup Reservoir North Davis Creek campground).
TH: FR400 is a spur from FR4652 and may not be passable, depending on recent maintenance. Metolius-Windigo Tr99 merges with FR400 at .6mi, to the end of the 1.8mi 'road'. Ascend 900' in 2.6mi (a very manageable 7% grade), the steepest ascent of the ride. After a gradual ascent, pass the Twins Tr3595 intersection on the left at 7.6mi.
8.2mi: Go left onto Charlton Lake Tr19 and ride 2mi to the Tr3593 intersection, then go left and ride to Waldo Lake.
11.8mi: Go left on Waldo Lake Tr3590, to Betty Lake Tr3664.
17.3mi: Cross FR5896 at 16.8mi, then go left on Betty Lake Tr3664. Cross FR5897 at 19.1mi and jog left to Bobby Lake Tr3663, which becomes Moore Creek Tr3840 at the 21.2mi PCT 4-way intersection. Descend 650' to the Metolius-Windigo Tr99 TH.