Between Sheep Mountain and Mount Lillian, Tronsen Ridge Tr1204 and Magnet Creek Tr1206 parallel SR97 as the road follows Tronsen Creek north of Blewett Pass, offering views of Mount Rainier, Mount Adams and St. Helens to the south as well as Glacier Peak to the North.
When FR7204 is in good shape, the steepest Magnet Creek Tr1206 terrain can be avoided. For those seeking a moderate ride, starting at FR7204 and turning around 1mi past the Red Hill Tr1223 intersection (avoiding the final ascent to FR312), creates an 11mi OAB of intermediate-level, undulating ridgeline terrain.
Ding: From the SR97 Magnet Creek TH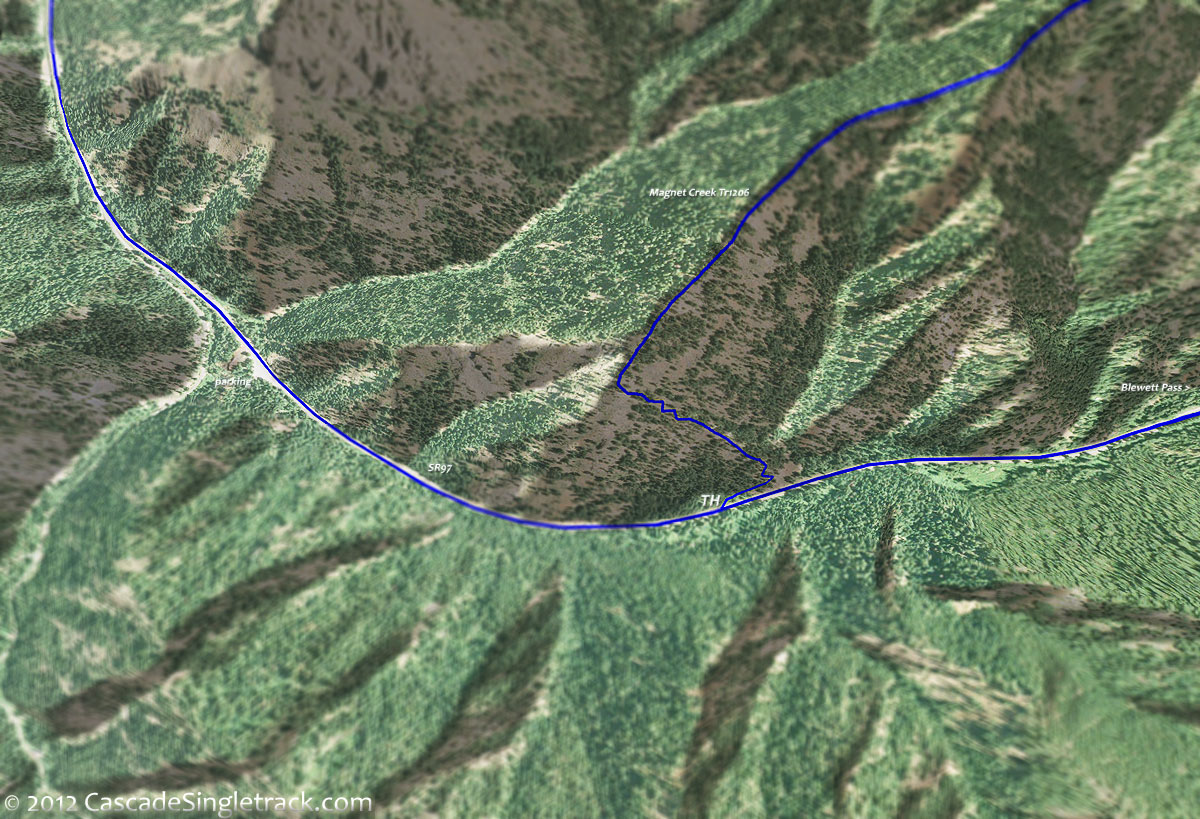 View of the Magnet Creek TH, Magnet Creek Tr1206 ascends 950' in the first .5mi, an unclimbable 36%. A very, very steep hike-a-bike, which is followed by 2mi of tough ascent, so parking at the FR7204 intersection with Magnet Creek Tr1206 is a good option if road conditions permit.
Riding from FR312 to the SR97 Magnet Creek TH creates a great 10.5mi shuttle ride. To start at FR312, drive .75mi past Haney Meadows on FR9712, to the sharp curve just before the Naneum Creek crossing, then go left on FR312 and park anywhere alongside the road.
FR7224 (Five Mile Creek Road) provides mid-trail access to Tronsen Ridge Tr1204, which could then be ridden OAB in both directions.
Limited camp sites are available at the Blewett Pass Tronsen Campground.
Magnet Creek TH: park on the west side of SR97 at MP171.2 along the shoulder (across from a rock outcrop) and go 450' down SR97 to the TH.