Tiger Mountain has 3 easily-accessible trails and is extremely popular, so expect to interact with a lot of other users.
There are only a few trails open to biking, with the rest of Tiger Mountain restricted to hikers.
As if the limited singletrack weren't enough to maintain the local (non-destination) trail status, as of July 2011 a Discover Pass will be required to park at either Tiger Mountain lot. Although the terrain is fun and worth checking out, considering the cost, it's not worth driving any great distance to ride mostly fireroads. That said, for anyone seeking in-town, semi-hilly riding, the 10mi Tiger loop is an easily accessible, solid workout.
Seasonal closure: October 15 to April 15. WA DNR Tiger Mountain Status.
Duthie Trails: The 6mi Grand Ridge Trail leads from the Preston (Rails to Trail) to the Duthie park trails, with numerous stunts and skill building terrain to be found within the four CW loops.
Other than riding north from the Grand Ridge Trail, parking for Duthie Hill is also at the Duthie Hill Lodge (upper lot) or Cascade Ridge Elementary on the weekend. View of Duthie Hill TH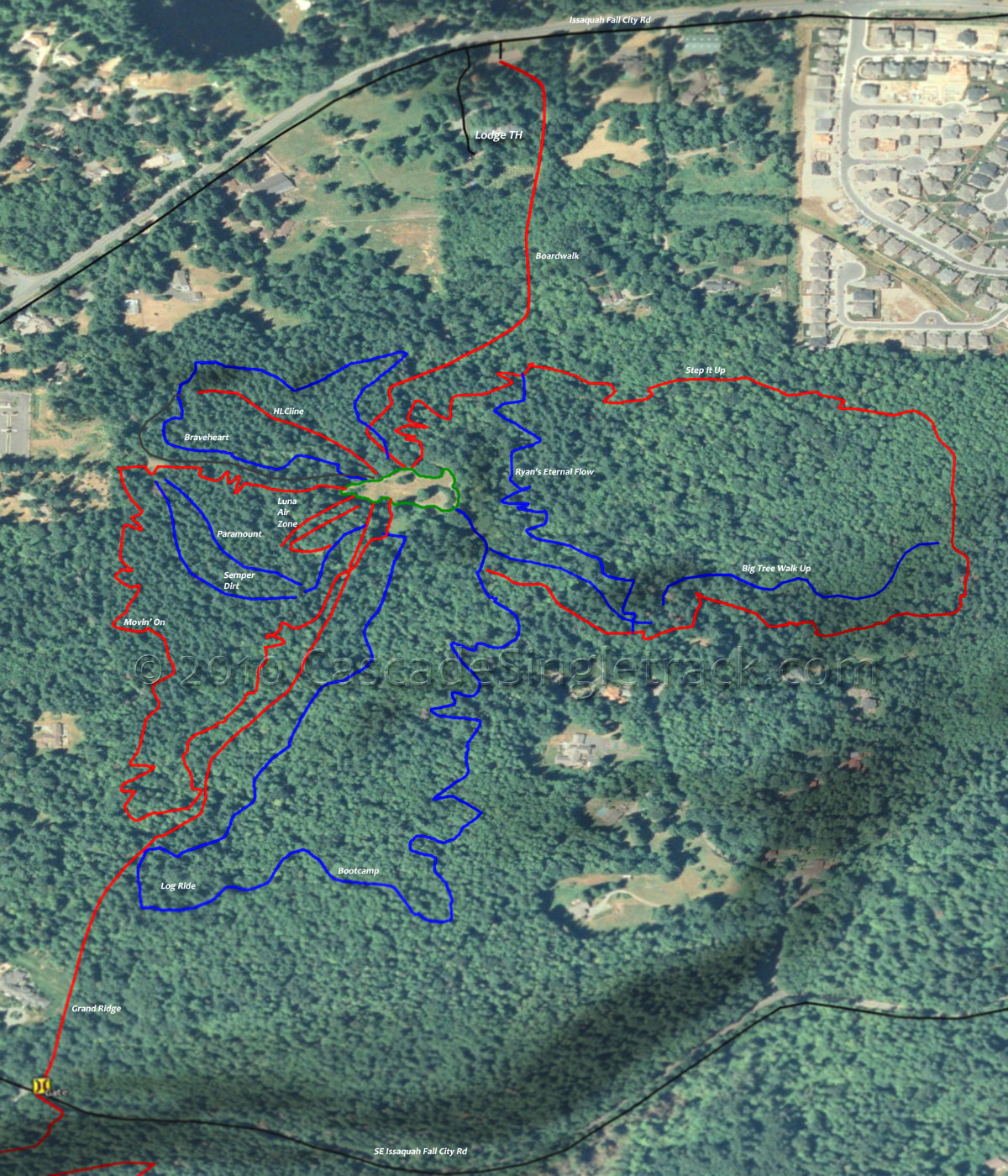 View of Duthie Hill TH.
The Evergreen MTB Duthie Hill page has the current status of the MTB park and notes on the skill building features of the park.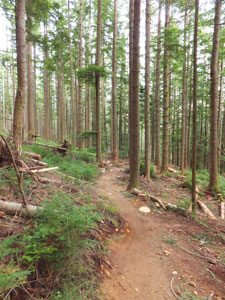 Off The Grid Trail is more technically challenging (roots and rocks, with some large drops) than Preston RR Grade and NW Timber. A 13mi OTG loop combines the usual ascent to the East Tiger Summit, then OTG with Fully Rigid and Joyride and a return on NW Timber.
Nearby Taylor Mountain has even more singletrack open to bikers, so is worth checking out.
For those interested in helping maintain the Tiger, Duthie and other area trails, there are frequent work parties which help keep these trails rideable.
Tiger Mountain Hiking: The 6.5mi (2200' ascent) Chirico to Poo Poo Point CCW Loop is a popular hike, as are the obvious loop options from the various northern trailheads.
The 14.5mi (4950' ascent) Tiger Mountain Trail is the primary N-S connector for most other trails and a popular route for those seeking an all-day hike. The route is usually done South to North and includes some Hobart rails to trail on the way to the Karl's Gap Tiger summit.