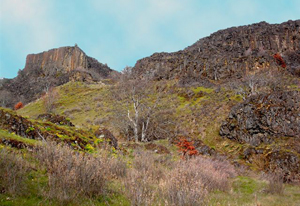 The dry climate makes both of these trail systems good choices when the Cascades are soaking wet.
The Crybaby's narrow singletrack at the edge of the Syncline connects to the G-force-steep The Wizard.
Little Maui is best ridden downhill, with a rocky surface which runs alongside some small waterfalls.
Little Moab Trail weaves along the edge of Coyote Wall.
Hidden Valley offers some exciting hillside exposure and narrow, rocky singletrack, always an interesting combination.
Closed to public use: Coyote Canyons winds through the woods, from orchards to pine trees.
The Gauntlet includes jagged rock gardens interspersed with tight narrow singletrack.
There are several less-ridden trails to the east, which approach the Catherine Creek drainage.
At some point these east-side trails may become posted as off-limits to bikers, so please respect any posted use restrictions (or any shotgun-toting homeowner).
The typical loops both start by climbing the hard packed Jeep Trail to the orchards.
Then go right and descend the narrow, rocky, technical Hidden Valley trail (Total: 5mi, 1400' climbing), or go left and proceed to The Wizard, Crybaby, Rattlesnake Ridge, Gauntlet and Coyote Meadows, merely risking some extreme cliff exposure (Total: 10.3mi, 3500' climbing).
Riders can also climb the fire roads if the trail seems too steep.
There are some homes in the area, so please respect their privacy (and their cows) and please close any pass-through gates.
Shuttle riders can use Courtney Road to access the top of Crybaby, and Hidden Valley provides an outer loop option.
The CW Hidden Valley or CCW Crybaby to Coyote loop offer the most gradual ascent combined with the steepest descent, but stronger climbers can handle either loop in the other direction.