Siouxon Cr Tr130 and Huffman Pk Tr129 form a perfect loop ride, connected by Chinook Cr Tr130A and the aptly named Connector Tr130D.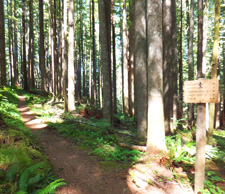 Huffman Peak Tr129 crosses Siouxon Peak and Huffman Peak then descends and crosses Siouxon Creek. Riders will find that Chinook Creek Tr130A is the best way to access Huffman Peak Tr129. Expect to hike 70% of Chinook Creek Tr130A, with many 20% grades along the way. Upper Chinook Creek Tr130A is an abandoned forest road so is a moderate ascent.
Note: This is a dry weather ride. Due to the sometimes dangerous Chinook and Siouxon Creek water crossings, don't attempt the full loop right after a rainfall or before July. The steep terrain results in significant treefall, so be sure to check trail conditions.
Consider packing some rubber water shoes for the two creek crossings (Chinook and Siouxon).
Hiking options: consider using Wildcat Cr Tr156 to shorten the hike and the Huffman Pk Tr129 section can be extended by using the inverted N Fork Siouxon Tr126 (or just hike a portion OAB, to avoid the steep mid-trail North Siouxon Creek ravine).
North Fork Siouxon Tr126 is often not maintained and is not really suitable for riding.
The Siouxon Creek Tr130 OAB is 16.4mi, with half of the ascent in the last 2mi to the upper TH. The lower portion is an easy intermediate ride, becoming progressively more advanced beyond the Chinook Creek Tr130A intersection. Connector Tr130D offers some nice singletrack and past the Chinook Creek Tr130A intersection, Siouxon Creek Tr130 narrows to a technical singletrack.
Road access to the upper TH is rough and windy, making the 8.2mi shuttle ride undesirable unless arriving from the East (Wind River Road to FR64 to FR58 to upper TH).
Prior to trying the 6.4mi (2500' climbing, CW loop) Horseshoe Ridge Tr140, check with the Chelatchie ranger station to see how many years it has been since the trail was last maintained.
The first 1.7mi ascends 1600', for an unclimbable 18% grade.
The final 1.4mi descends 2100' (28% grade), in a more technical downhill than most riders are looking for.
The trail also offers steep cliff exposure, just to keep things interesting.