O'Leary Mountain Tr3321 is a steep ridgeline ascent to MacDuff Mountain.
Check forest service road conditions, as FR1993 access is affected by washouts and other damage and the upper TH may not be accessible by car. O'Leary Tr3321 can become overgrown when riders are not able to shuttle from the upper Olallie Tr3529 TH (due to FR1993 road closure).
The O'Leary ridge trail traverses three mountain peaks: Mclennen, Macduff and O'Leary mountain, with a steep 4mi ascent between the TH and Mclennen mountain.
All of the trails to the east and south of FR1993 are in wilderness areas.
Too steep to be ridden OAB, from the FR411 trailhead O'Leary Tr3321 has a 4mi, 14% ascent to MacDuff Mountain. Ascending Olallie Tr3529 (or FR1993 if possible) to the upper O'Leary Tr3321 TH is the only reasonable option, making this a ride best left to shuttling.
O'Leary-Castle Epic
A 25.5mi (7500' ascent, all-day) epic CW loop starts at the King Castle Tr4326 TH and combines Olallie Tr3529, O'Leary Tr3321, Castle Rock Tr3506 and King Castle Tr4326.
With most of the climbing on FR2639 and FR1993, ascending a 1.5mi (10% grade) section of Olallie Tr3529 instead of continuing on FR1993 is manageable. Check on the FR1993 road condition, as it is prone to closures.
The 7mi (1900' ascent) FR2638-FR1993 road ride could be avoided with a shuttle, but is a reasonable ascent.
TH: From the King Castle Tr4326 TH, go east on FR2638 to the 3.8mi FR2639 intersection, then go right, to the 4.2mi FR1993 intersection.
4.2mi: Ascend FR1993, with an option to continue ascending FR1993 from the 7mi Olallie Tr3529 intersection to the upper FR1993 intersection. Do what you can.
10.4mi: If ascending Olallie Tr3529, then go right on O'Leary Tr3321 and enjoy the wild descent to the O'Leary TH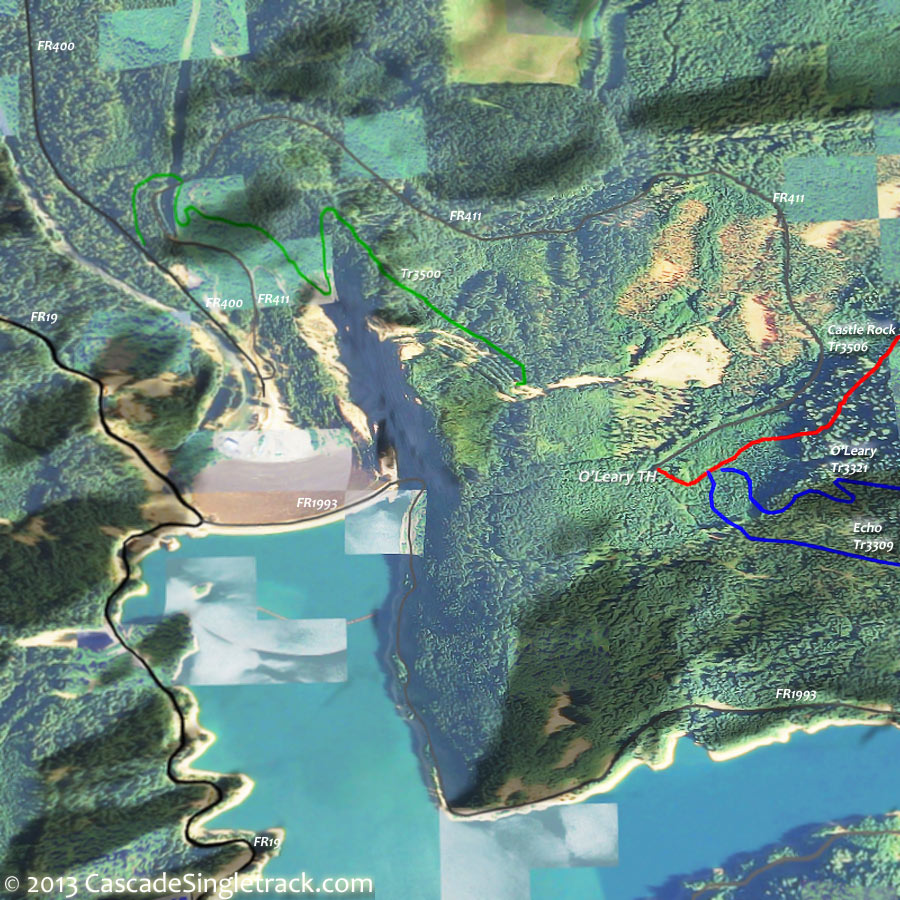 View of the O'Leary Trail 3321 TH.
18.5mi: Go right onto Castle Rock Tr3506, with a moderate descent to King Castle Tr4326, then a great downhill run to the TH.