East Fork Trail 3308 and O'Leary Trail 3321 Area Mountain Biking and Hiking Topo Map
Map includes: Castle Rock Trail 3506, East Fork Trail 3308, East Fork-Ollalie Connector Trail 3326, Echo Trail 3309, King-Castle Trail 4326, O'Leary Trail 3321 and Olallie Trail 3529 Mountain Biking and Hiking Trails.
TH: From the O'Leary TH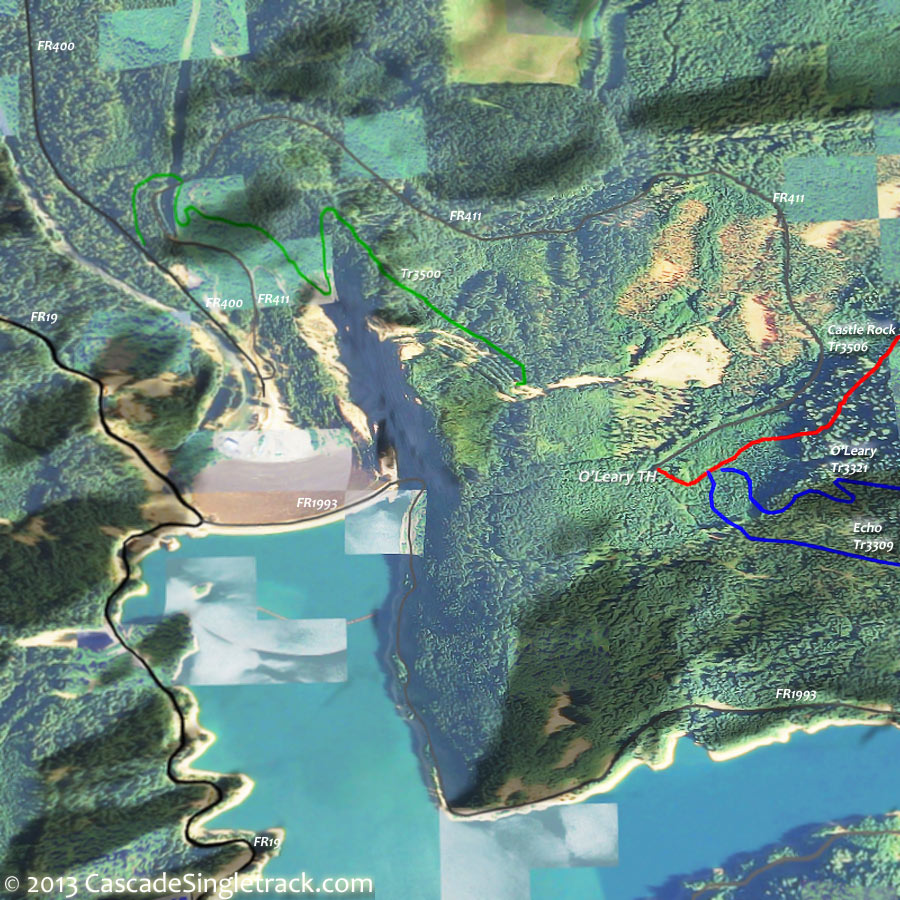 View of the O'Leary Trail 3321 TH, ride Echo Tr3309 to FR1993 (1.9mi), then cross the road and climb East Fork Tr3308.
7.9mi: Climb up to FR1993. Cross the road and continue climbing the gradually increasing East Fork-Ollalie Connector Tr3326 ascent slope to the Olallie Tr3529 intersection.
9.2mi: Go left at the Olallie Tr3529 intersection, paralleling FR1993 then a slow ascent to the ridgeline and the O'Leary Mountain Tr3321 intersection.
10.4mi: Go left onto O'Leary Mountain Tr3321 and cross the saddle to the O'Leary Mountain ridgeline (11.2mi). Pass Mclennan Mountain at 12.5mi and Macduff Mountain at 14.2mi.
14.5mi: Fast, switchback descent to the TH.
Draggable map: Map window adjusts to screen size and will respond to touch control. Use scrollbar for mouse control.
No Map? Browser settings and some browser extensions can prevent the maps from appearing. Please see Site Tech