Olallie Tr3529 is a ridgeline trail which ascends the northern O Leary Mountain ridgeline, then continues on to Taylor Castle, Lamp Butte and English Mountain.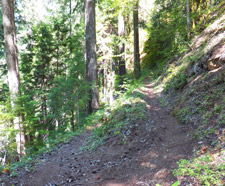 Check forest service road conditions, as FR1993 access is affected by washouts and other damage and the upper TH may not be accessible by car.
The typical 10mi (4700' ascent) CW loop is described as climbing FR1993 and returning on Olallie Tr3529, with a 7.5%, 5.7mi road climb and a 12%, 4.3mi descent.
That is only ~30% singletrack based on ride time, not enough to be listed as a destination ride.
Experienced, strong climbers can handle Olallie and so an OAB would be the better option, and is the ride featured on this page.
Ding: The trail surface is generally smooth, but is narrow and off-camber, with significant hillside exposure, making Olallie Tr3529 a technically challenging ride in either direction. The grade is generally less than 15% but the hillside is easily a 40% grade, resulting in landslides and treefall.
The ride can be extended up to 18.5mi (5600' ascent), or nearly to the end of the Olallie trail, then return.
Few trails are both Epic and OAB, but Olallie is one of them.
All of the trails to the east and south of FR1993 are in wilderness areas.
Olallie Ridgeline (14mi, 3700' ascent)
To ride just the Olallie ridgeline, park at the FR340 gate or the Horsepasture Meadows TH, then ride south to just past English Mountain. Note: this section of trail is not frequently maintained, and is subject to blowdown and overgrowth, so be sure to check with the McKenzie Bridge guard station on current conditions.