The combination of twisty riverside singletrack and moderate climbing makes McKenzie River Tr3507 one of the best singletrack rides in the Cascade range.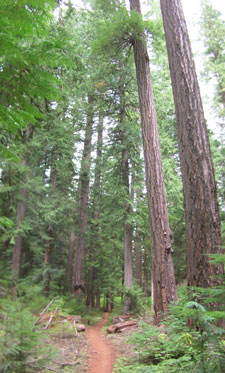 To extend the McKenzie River Tr3507 ride, start from the Paradise CG TH. XC riders may prefer to shuttle from the upper Trailbridge CG TH to Paradise CG, to avoid the more technical northern trail conditions and the relatively flat southern section (past the Paradise CG).
Topo Map of the entire McKenzie River Tr3507 ride.
The combination of lava fields, footbridge crossings and the Sahalie waterfall climb keep things interesting. The moss-lined trail passes through old growth douglas fir.
The lava fields are not as technical as they once were, but will still gleefully fillet pedals, deraileurs and skin if not respected. Not the best place to endo.
Heavy traffic appears to be making the trail between the lava section and the waterfalls more technical, as dirt and pumice packing reveals underlying rocks.
The trail has held up fairly well under heavy use and is best ridden during the week, to avoid collisions with hikers.
After the first few miles the hiker traffic thins out and there are long stretches of twisty singletrack which define the meaning of 'flow'.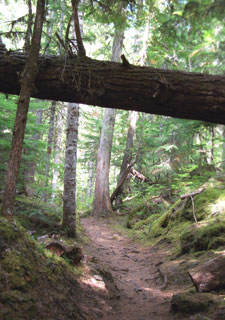 The ride around Clear lake is less interesting and may include a lot of hikers from the campsites, but still worth checking out and a good way to extend the ride.
Area Campgrounds (north to south): Fish Lake CG, Cold Water Cove CG, Ice Cap Creek CG, Trail Bridge CG, Olallie CG, Limberlost CG, Paradise CG, McKenzie Bridge CG, Horse Creek CG.