Clear Lake Loop Trail 3507.2, McKenzie River Trail 3507, Waterfalls Loop Trail 3503 Mountain Biking and Hiking Topo Map
McKenzie River: Trail Bridge Campground to Clear Lake OAB
TH: The ride starts out fast and easy, winding alongside the McKenzie River and leading to the first of two lava sections.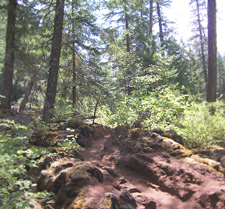 1.75mi: Reach Tamolich Falls and enjoy the scenic Tamolich blue pond. Pedestrian traffic drops off from this point northward, up to the Sahalie Falls area. Cross several footbridges and wind through dense forest and treefall.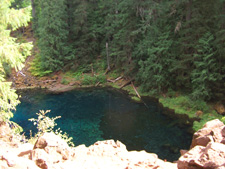 4.7mi: Pass Carmen Reservoir then reach the intersection with pedestrian Waterfalls Loop Tr3503. Remain on the east side of the river and after another forest section, begin the Koosah to Sahalie Falls ascent.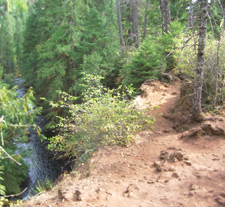 6mi: After a series of ascents up to the top of Sahalie Falls, the trail descends to a footbridge and crosses to the west side of McKenzie River, then crosses SR126 and reaches Clear Lake and campground at 6.6mi. Go CW around the lake, with a few hike-a-bike lava sections and expect a lot of pedestrian traffic on the weekends.
10.7mi: Having circumnavigated Clear Lake, begin the fast descent back to the Trail Bridge campground TH. The Falls and lava sections may be too steep/technical for some riders, so be careful not to get out of control.
Draggable map: Map window adjusts to screen size and will respond to touch control. Use scrollbar for mouse control.
No Map? Browser settings and some browser extensions can prevent the maps from appearing. Please see Site Tech