McKenzie River Tr3507 from the Paradise Campground to the Trailbridge Campground is a typical riverside ride, with moderate elevation gain along the way.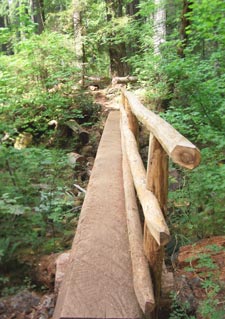 A typical campground trail, the southern section is popular with hikers. The terrain becomes increasingly challenging, especially when ridden OAB, as the trail traverses the hillside along the McKenzie River. The Trailbridge CG section is a cliffside traverse, requiring some technical skills and stamina.
The excitement starts just north of the Trailbridge CG, where the singletrack gets much more twisty, then comes the lava trails, then the waterfalls...
If camping in the area or for a relatively easy ride, this one is worth the effort.
Most of this ride is not easy enough for children and there are some brief ascents along the way, so please don't interpret the rating as indicating this is some city park trail.
Epic option: The OAB ride can be extended up to 45.7mi (4400' ascent, ~14hrs) by continuing the ride to Clear Lake.
Topo Map of the entire McKenzie River Tr3507 ride.
Mount Washington Wilderness Hiking
Advance reservations of Limited Entry Area permits for the very popular Obsidian Limited Entry Area are ONLY available through the National Recreation Reservation System (NRRS) at recreation.gov or by calling 1-877-444-6777. Season starts May 1st.
Scott Tr3531 passes through moderately forested areas, over lava flows and alpine meadows, to Pacific Crest Tr2000-E.
Robinson Lake Tr3508 provides the western boundary of the popular Scott Mountain hiking system, passing through moderately forested, sub-alpine ecosystem, accessing Kuitan and Robinson Lakes.
Hand Lake Tr3513 and Benson Lake Tr3502 enable a variety of day hiking loops, with Scotty Way Tr4345 providing access to the Scott Mountain summit.
In the Three Sisters Wilderness Area, North Matthieu Lake Tr4062 is a segment of the Oregon Skyline Trail, replaced by the Pacific Crest Trail. Available at the trailhead, Wilderness Permits are required for both day-use and overnight travel in the Wilderness from Memorial Day Weekend until Oct 31.