Chucksney Mountain Trail 3306, Grasshopper Mountain Trail 3569 and McBee Trail 3523 Area Mountain Biking and Hiking Topo Map
Map includes: Box Canyon Trail 3660, Chucksney Mountain Trail 3306, Grasshopper Mountain Trail 3569, Grasshopper Spur Trail 3314 and McBee Trail 3523 Mountain Biking and Hiking Trails.
TH: From the Box Canyon campground, go right onto Chucksney Mtn Tr3306 and ascend 2300' over 4.5mi, to the Chucksney Mtn ride summit, then ride along the ridge to the Grasshopper Mtn Tr3569 intersection.
6mi: Go left onto Grasshopper Mtn Tr3569. After a moderate descent and climb, traverse to the next ridgeline at 8mi, then cross some rough terrain to Grasshopper Point.
11.2mi: Pass the Grasshopper Spur Tr3314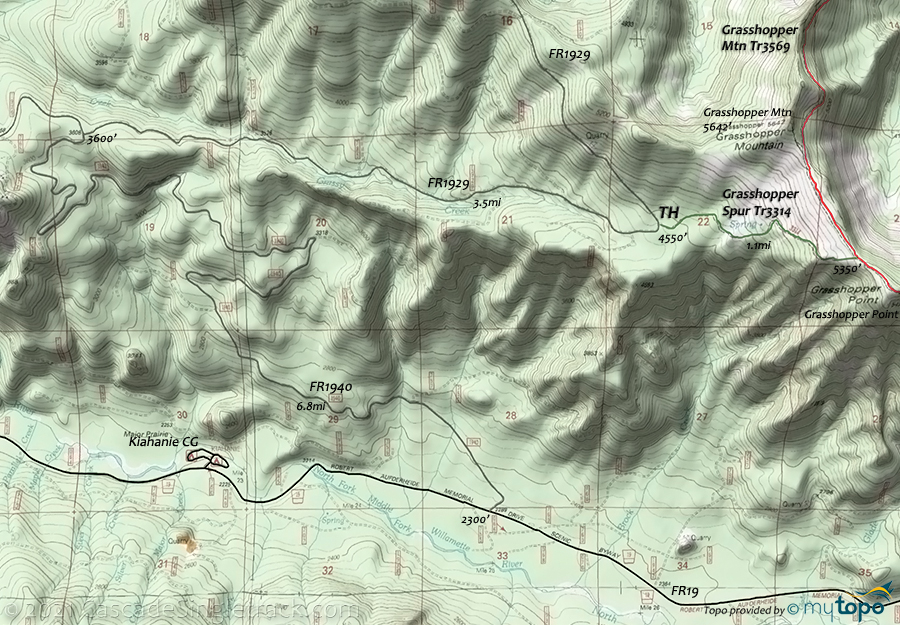 View of the Grasshopper Point TH intersection on the left, then continue 2.7mi, past Grasshopper mountain to the point where the trail begins the descent to FR1927.
13.9mi: Turn around and head back to the TH. At the 21.8mi Chucksney Mtn Tr3306 intersection, extend the ride by several miles by using Chucksney Mtn Tr3306 for the descent, or enjoy the fast Box Canyon descent on Grasshopper Mtn Tr3569.
Draggable map: Map window adjusts to screen size and will respond to touch control. Use scrollbar for mouse control.
No Map? Browser settings and some browser extensions can prevent the maps from appearing. Please see Site Tech