Chuckanut Mountain offers a collection of DNR trails covering Larrabee State Park, with several challenging figure-eight loops which cover most of the terrain.
Those seeking something more epic could consider using Lost Lizard Lake trail as a north-south Chuckanut Mtn connector trail to the Blanchard Hill trails.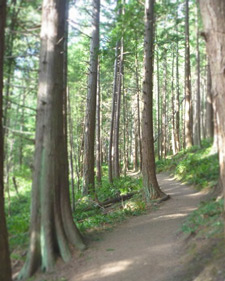 California and Cleator Roads help ease some of the climbing, as the terrain drops sharply on the sides of this dome shaped mountain.
These roads create several good shuttle opportunities as well.
The North and South Lost Lake trails combine into a nice loop, described below, with a section of Double Black Diamond, Hemlock and Salal added to create a figure-eight loop for those seeking something more aggressive.
Interurban can also be used, to start on Cleator Rd and end up at California Road.
Double Black Diamond (don't try this on skis) is a natural figure eight loop, with Cleator Road perfectly positioned for shuttling.
Hiking: The SR11 (Chuckanut Dr) Fragrance Lake TH is for hiking, crossing the Interurban trail before switchbacking the steep, mature, mossy Doug Fir and Cedar slope to Fragrance Lake.