The Dread and Terror section of North Umpqua River Tr1414 offers enough cliff exposure, rough terrain and technical singletrack to challenge intermediate riders and keep advanced riders interested as well.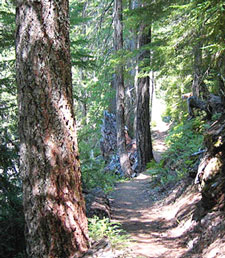 The name was coined by some apparently botanophobic forest service rangers, who named the nearby ridgeline 'Dread and Terror' due to the presence of white thorn bush in the area. The bush is not actually found on Dread and Terror Tr1461..go figure.
Aside from shuttling from Lemolo Lake, the OAB ride typically starts from the Toketee Lake campground, just north of Clearwater on FR34. A full OAB ride requires strong climbing abilities but intermediate riders should be able to manage the lower half.
The ride can be shortened six uneventful miles by starting at the FR3401 Umpqua Hot Springs TH. The trail section on the north side of the river up to FR3401 is not well suited for biking, making the FR3401 Umpqua Hot Springs TH the better starting point.
To extend the ride, the challenging 6.5mi Deer Leap segment can be added, starting from the FR4775 TH.
Shuttle riders will often start at Lemolo Lake White Mule TH, and ride the Dread and Terror, Deer Leap and Jesse Wright segments (29mi), ending at the Marsters bridge.
The actual Dread and Terror trail (#1461) is a short ridgeline ride which does not link up well with North Umpqua Tr1414, and is best ridden as a shuttle or OAB from FR701 to the first switchback.
Because the Dread and Terror section of North Umpqua Tr1414 passes through a narrow valley, expect wet conditions in the Spring and for several days after it has rained. The river valley Thorn Prairie section remains wet year round.
There is an access road for the nearby Lemolo Canal, but don't expect any traffic and there are few access points to that road from the trail, limiting bailout opportunities. Over most of the ride, accessing the canal road would be more life threatening than simply walking out on the trail, so extreme caution is advised.
Be sure to keep a full tank of gas, and get other provisions before the ride, as the Lemolo Lake and Clearwater shops are not 24/7 and the nearest gas station is in Glide.
Ask the Diamond Lake Ranger Station about trail closures before traveling to the area.