Mt Elijah Tr1206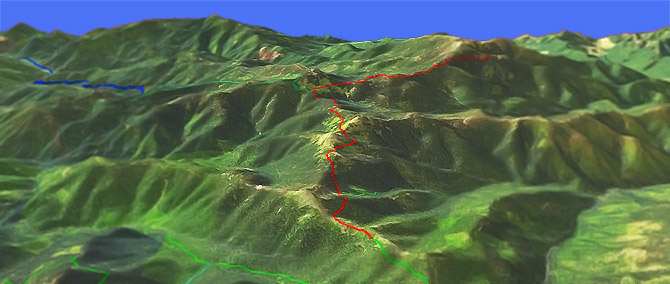 Mt Elijah Tr1206 is not recommended for biking, especially on peak summer weekends, so is only suitable if camping in the area.
Boundary Tr1207 is open for biking, accessed from Lake Mountain/Bigelow Lake Tr1214 and the final segment of Mt Elijah Tr1206.
As the trail status and maintenance may become prohibitive for biking at any time, please check with the nearest ranger station on trail status prior to attempting this very challenging ride.
Boundary Tr1207 is a ridgeline trail which crosses numerous saddles (high mountain meadows), so involves multiple ascents over rugged terrain.
The southern section enters the Red Buttes Wilderness and so is offlimits to biking.
Red Buttes Wilderness Hiking
The Oregon Caves are a popular tourist destination, with family hiking trails which are not maintained for mountainbiking.
Directions: NW Forest Pass required right at the TH. I-5 to the Grants Pass exit, then follow the signs to Oregon Caves. At Cave Junction go left onto SR46, then FR4613 to FR070 and park at the Lake Mountain/Bigelow Lake TH. View Larger Map. No Map?.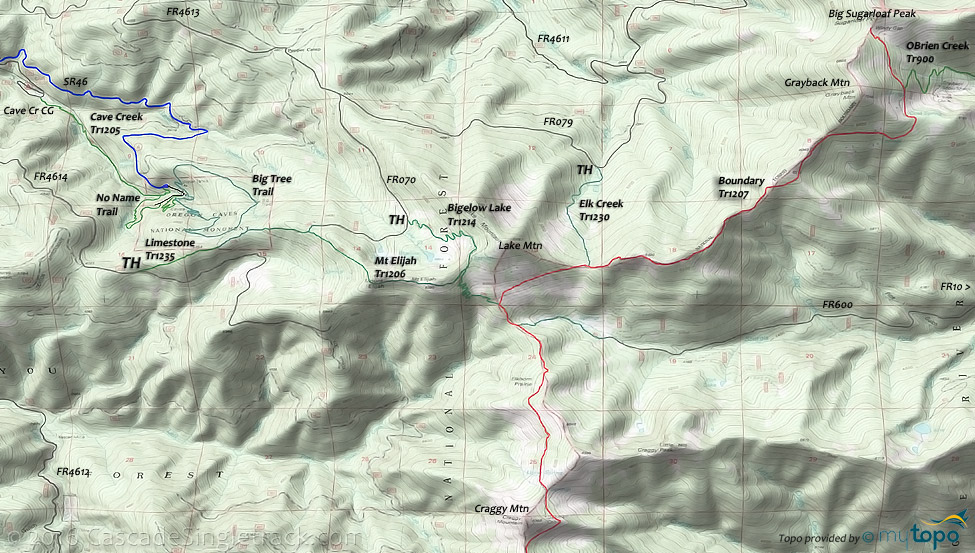 boundary conditions
TH: Ascend or hike-a-bike from the Bigelow Lake Tr1214 TH (5633') for 1mi (6300'), then descend to Mt Elijah Tr1206 (6175').
1.3mi: Go left onto Mt Elijah Tr1206 and switchback to Boundary Tr1207 (5750').
2.1mi: Ascend 0.8mi to Elk Creek Tr1230 intersection (5900'), followed by a steep ascent to 6400'. Descend to a meadow at 5930', followed by a steep ascent to 6300'.
6.5mi: Having ridden off the ridgeline, pass the OBrien Creek Tr900 TH at 6200' and continue 0.6mi to the Windy Gap ride summit at 6500'.
7.2mi: At Windy Gap, return to the TH, or continue past the Mt Elijah Tr1206 intersection for 2.5mi to Craggy Mountain, then return to the TH.
This Ride
Bigelow Lake Trail 1214, Boundary Trail 1207, Mt Elijah Trail 1206
Hiking
Big Tree Trail, Cave Creek Trail 1205, Cliff Nature Trail, Elk Creek Trail 1230, Grayback Interpretive Trail 1204, Green Valley Trail 904, Limestone Trail 1235, O'Brien Creek Trail 900, Sturgis Fork Trail 903,
Red Buttes Wilderness
Bolan Lake Trail 1245, Fehley Gulch Trail 1231, Kings Saddle Trail 1245A, Sucker Creek Trail 1237, Tannen Lakes Trail 1243,
Campgrounds
Bolan Lake Campground, Cave Creek Campground, Grayback Campground