Located just east of Prineville, Lookout Mountain Tr804 offers a great late summer loop ride, ascending to the highest peak in the Ochoco Mountains.
Independent Mine Tr808 and lower Lookout Mountain Tr804 are suitable for backcountry XC Ski, with a winter shelter near the Lookout Mountain summit.
The Walton Lake Sno-Park is located at the intersection with FR135 and extends north and east of the lake. Walton SnoPark Map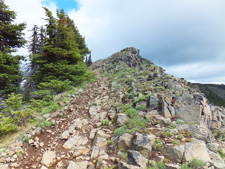 The ride starts at the Ochoco Ranger Station, ascending FR42 and Independent Mine Tr808 to the upper Lookout Mountain Tr804 TH, descending the northeast side of Lookout Mountain.
Offering a great view of the Cascade range, the upper sections of Lookout Mountain are marshland meadows, prone to flooding and high enough to be covered in snow till late Spring.
Lookout Mountain is managed as a semi-primitive area. The spring melt occurs sooner than in the Cascade range.
Accessible from a side path, the Lookout Mountain summit has the foundation remnants of the old lookout, in the middle of a sagebrush meadow (yellow balsamroot, blue larkspur, lupine and red scarlet gilia) that runs the length of Lookout Mountain.
Just downhill from the intersection with Independent Mine Tr808 is a log winter sports shelter with fireplace.
Do not explore the Motherlode mine or mine tailing areas due to hazardous conditions. Baneberry Tr812 offers a short hike to an abandoned miners camp.
COTA has an agreement with the forest service to maintain Lookout and Round Mountain Trails.