Pacific Crest Trail 2000-G and Timberline Trail 600 Area Mountain Biking and Hiking Topo Map
Map includes: Alpine Trail 600, Crosstown Trail 755, Glade Trail 661 Mountain Biking and Hiking Trails.
Mount Hood Wilderness Hiking Trails: Burnt Lake South Trail 772, Hidden Lake Trail 779, Horseshoe Ridge Trail 774, Mazama Trail 625, Mt Hood Summit Route, Pacific Crest Trail 2000-G, Paradise Park Trail 778, Sandy River Trail 770, Timberline Trail 600, West Zigzag Trail 789, Zigzag Mountain Trail 775
Timberline Glade CCW Loop
TH: From the Crosstown Tr755 TH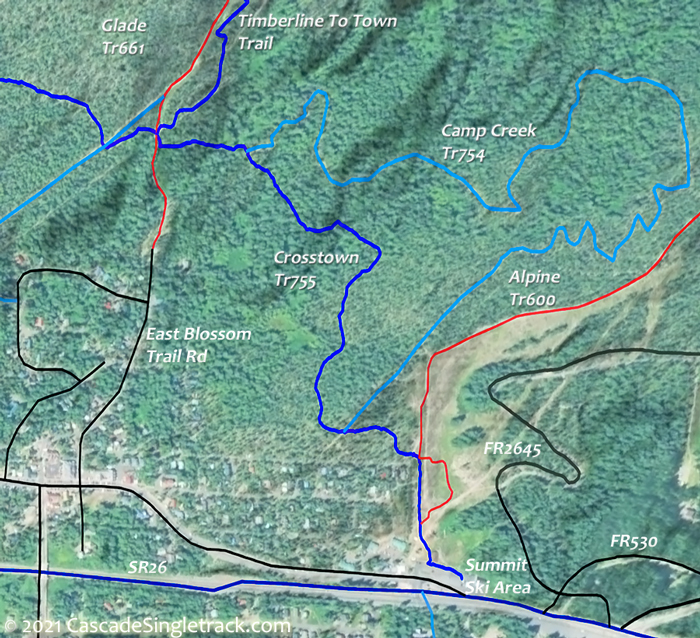 View of the Timberline Crosstown TH, climb 500' then go right to FR2645 and ascend to the Alpine Tr600 intersection.
4.5mi: At the sharp righthand corner, go left onto Alpine Tr600, then go right, around the building and over to Glade Tr661 for the bombing run. Watch for jumps and waterbars and try to keep the speed under control.
6.6mi: Go left onto Crosstown Tr755 and ride back to the TH, or go right and ride some or all of Pioneer Bridle Tr795 OAB.
Draggable map: Map window adjusts to screen size and will respond to touch control. Use scrollbar for mouse control.
No Map? Browser settings and some browser extensions can prevent the maps from appearing. Please see Site Tech