Surveyors Ridge Tr688 is a classic ridgeline trail, with moderate climbing that intensifies over the length of the trail, offering great views of Mt. Hood and the valley below.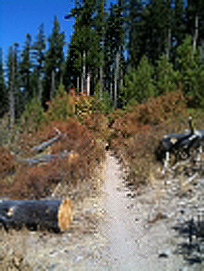 The Surveyors Ridge Tr688 TH is also the trailhead for High Prairie Tr639.
Surveyors Ridge Tr688 gets dusty in late summer, can be limited by treefall in the Spring, and dries out within a few days of rainfall.
FR17 parallels Surveyors Ridge Tr688, with several FS connectors to the trail along the way, which might be useful in case of a breakdown or accident but not recommended as a return loop.
Although most riders choose to start from FR44, using the northern FR17 TH as the starting point enables the entire trail to be ridden, without creating an inverted ride profile.
If starting from the southern FR44 TH, then either turn around at Bald Butte Mountain or shuttle to the northern TH, due to the steep descent from Bald Butte to the northern FR17 TH.
For those seeking a more strenuous ride, Surveyors Ridge Tr688 can be combined with Oak Ridge Tr688A and Dog Rvr Tr675 into an all-day, epic 27mi ride.
Start at the Oak Ridge Tr688A TH. Go on Smullin Rd, on the left 1.4mi past the Mt Hood Country Store and just before the Hwy Dept facility.
The road to the Oak Ridge TH is at the first curve.
For camping, check out Knebal Spgs CG, which is the TH for the Knebal Spgs Tr474 loop.
Dog River Surveyors Epic
This is a 24.5mi (5200' ascent) CCW loop, consisting of Dog Rvr Tr675 to Surveyors Ridge Tr688, ending with a wild bombing run on Oak Ridge Tr688A.
TH: From the Oak Ridge Tr688A TH, go to SR35 then climb 500' on SR35S to the Dog Rvr Tr675 TH.
3.7mi: Climb 6.6mi (2500' ascent) on Dog River Tr675 to FR620, then go 2.6mi further to the Surveyors Ridge Tr688 TH.
10.9mi: Ride Surveyors Ridge Tr688 to the 1850' Oak Ridge Tr688A descent back to the TH.