Rhododendron Ridge Tr564 is a moderate ride, a bit longer and slightly more challenging than the other trails in the area.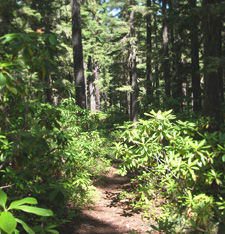 The steepest Rhododendron Ridge Tr564 terrain is on the 3mi, 7% grade section from the FR6350 TH to Mount Lowe Tr562.
The trail also connects with Burnt Granite Tr595, Mount Lowe Tr562, Bald Butte Tr3360 and Hawk Mtn Tr564A.
Rhododendron Creek Tr569 is an abandoned trail, completely returned to nature.
Ding: Due to infrequent use and encouraged by the lack of forest service maintenance, the trail offers many fallen trees to climb over, and leg-whipping overgrowth. Fortunately the bushwacking is mostly confined to the downhill sections (if riding from Cachebox Meadow). Portions of the trail are little more than streambeds, with a loose rock surface which requires some hike-a-bike.
There are no really good loop options, but aside from just riding the 10mi Rhododendron Ridge Tr564 OAB, Burnt Granite Tr595 and Bald Butte Tr3360 can be combined into a challenging shuttle ride.
The best Rhododendron Ridge Tr564 shuttle ride is from Cachebox Meadow to Graham Pass, which involves some climbing but offers long downhill sections winding through ridgetop meadows and open woods.
From Graham Pass to Cachebox Meadow, FR6350 offers a reasonable return path if not using a shuttle, with 800' ascent over 8mi, starting and ending with a climb.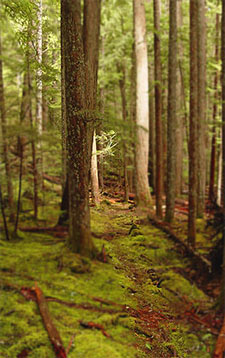 The 3.2mi Bald Butte Tr3360 starts with 1.4mi of virtually unclimbable 17% grade, but is the better starting point for a shuttle ride, so do some hike-a-bike and enjoy a 12mi ride with 3500' of climbing.
FR320/330 provides access to the top of Bald Butte, and could be used for the starting point.
From the northern FR4650 TH, the 4mi Burnt Granite Tr595 starts with 1.8mi of 13% grade and ends at FR6310, with FR4670 and FR240 connecting to the Mount Lowe Tr562.
Covered on the Rainbow to Riverside Tr723 page, another option is to ride the 9.7mi Urban Link section of Rhododendron Ridge Tr564 OAB, which covers uneven terrain alongside the Clackamas River.
With the great Clackamas River Tr715 and Huxley Lake to Grouse Point Tr521 closed to non-poaching bikers, the Urban Link is as close as legal riders can get. Start from the RAAB or Indian Henry Campground.