Boulder Lake Trail 463 and Forest Creek Trail 473 Area Mountain Biking and Hiking Topo Map
Map includes: Bonney Meadows Trail 471, Boulder Lake Trail 463, Casey Creek Trail 476, Forest Creek Trail 473, Hidden Meadows Trail 472 Mountain Biking and Hiking Trails.
Gunsight Ridge to Bonney Meadows Campground OAB
TH: From the High Prairie FR4410/FR4420/FR3550 intersection, go south on FR3550 for 1.9mi to the Gumjuwac Saddle then ride Gunsight Tr485 to the FR4891 intersection. Do not use Divide Tr458 to get to Gumjuwac Saddle, as that trail in in wilderness area.
7.3mi: Go left onto FR4891 and ride 1.5mi to the Bonney Meadows CG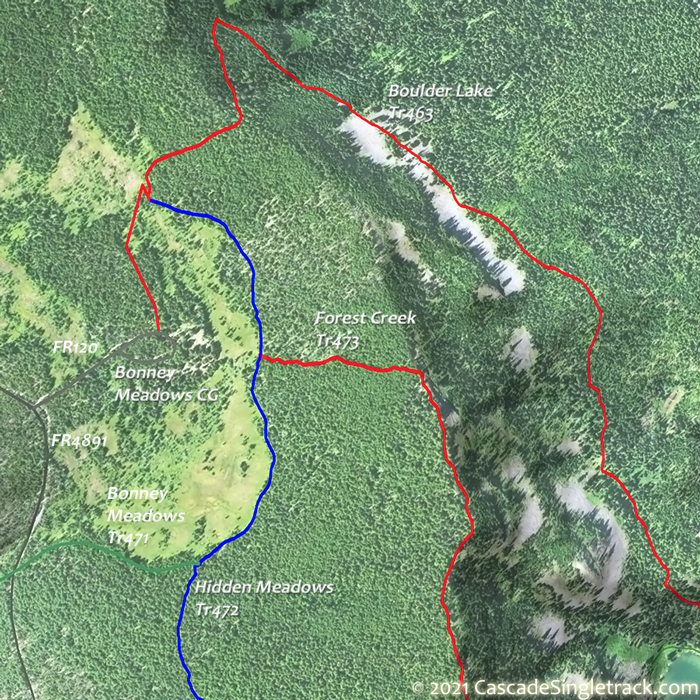 View of Bonney Meadows CG TH.
8.8mi: Return to the TH, or extend the ride by adding one of the loops described on this page.
Draggable map: Map window adjusts to screen size and will respond to touch control. Use scrollbar for mouse control.
No Map? Browser settings and some browser extensions can prevent the maps from appearing. Please see Site Tech