There are several good options for the Gunsight Ridge Tr485 to Gumjuwac Tr480 CCW loop, depending on how much road ascent is desired.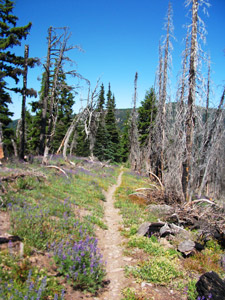 Either ascent option ends in the 2.4mi, 12% Gumjuwac Tr480 switchback slide back to the TH.
The 16mi (3500' ascent) ride is only for those seeking a 8.5mi road climb, although a shuttle could greatly reduce the road climb.
Since the steepest section is near the beginning of Gunsight Tr485, this option is just as steep as the shorter option described next.
The 14mi (3000' ascent) ride involves a 5.4mi, 5.2% hillside trail ascent up to FR3550, only slightly steeper than the 16mi ride.
If Gunsight Ridge riding is more you are looking for, Gunsight to Boulder Tr463 offers 100% singletrack and no Mtn Bike cliff diving.
For those seeking switchbacks, Dog Rvr Tr675 is a longer and more rideable alternative to the 2.3mi, 1500' Gumjuwac slide.
A Gumjuwac shuttle can be done by leaving a car at Gumjuwac and taking the other car to Bennett Snopark.
To do an OAB Gunsight ride, go on FR44 to FR4410 (on the right just past Surveyors Ridge TH).
Park at the top of FR4410, at High Prairie, then ride on FR3550 for about a mile to the upper Gumjuwac TH.