Gently ascending alongside Hood River, East Fork Tr650 could be considered a destination trail by those seeking relatively easy terrain.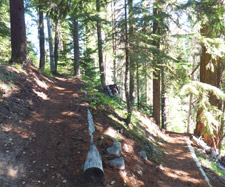 Those seeking an easy river ride could also consider Rainbow to Riverside Tr723 or Urban Link trail.
The first 2mi, between FR3510 and the Sherwood campground intersection, include several steep (10%) hillside ascents, so beginners should start from the Sherwood campground or be ready to do some hike-a-bike.
The ascent from Sherwood is steep for .7mi, then eases off into a more gradual climb.
The 3.9mi Robinhood Creek crossing may be impassable in the Spring, making it the turnaround point.
The 1mi Cold Spring creek crossing may also be impassable till late Spring.
Expect this easily accessible trail to be very popular with hikers (plus their children, parents and pets) on summer weekends.
Mount Hood Wilderness Hiking
Timberline Trail 600, Pacific Crest Trail 2000-G and surrounding trails form a hub and spoke trail system around Mount Hood in classic Pacific Northwest trails circumnavigating Mount Hood with alpine vistas, waterfalls, alpine meadows and west side Cascade forest.
This section of the Pacific Crest Trail extends from Barlow Pass to Lolo Pass, with Timberline Trail 600 surrounding the north and east sides of Mount Hood at the treeline, from Yocum Ridge to Timberline Lodge.
Timberline Trail 600 was constructed by the Civilian Conservation Corps in the 1930's, with challenging glacial-fed drainages crossing Newton, Coe, Muddy Fork, Sandy and White Rivers.
Wilderness permits are required and locator beacons are suggested. Mount Hood Summit info.
The large Area Maps on the following pages cover most of this trail system Pioneer Bridal Tr795, Sahalie Falls Trail 667C, Timberline Glade Trail 661, Tilly Jane Trail 643.
Shaded by large Douglas fir, Tamanawas Falls Tr650A offers a cool summer hike as it follows the Cold Spring Creek to the 100' falls.
A CCW loop of Elk Meadows Tr645 and Tamanawas Falls Tr650A, plus a side trip to the falls area, would be suitable for a moderate hike.
Bluegrass Ridge Tr647 offers views of Mount Hood, Mount Adams and Mount Rainier. Hiking from the southern terminus at the Elk Meadows Tr645 - Gnarl Ridge Tr652 5,280' intersection, the trail mainly follows the ridge, descending gradually to Cold Spring Creek at 3,620'. The creek crossing can be dangerous during Spring runoff or after heavy rainfall. A 15mi (11%, 4300' ascent) CCW loop consists of an unrelenting Elk Meadows Tr645 and Bluegrass Ridge Tr647 ascent leading to Robinhood Tr11, returning on East Fork Tr650.